President Trump Responded To The Mass Shooting At Borderline Bar In Thousand Oaks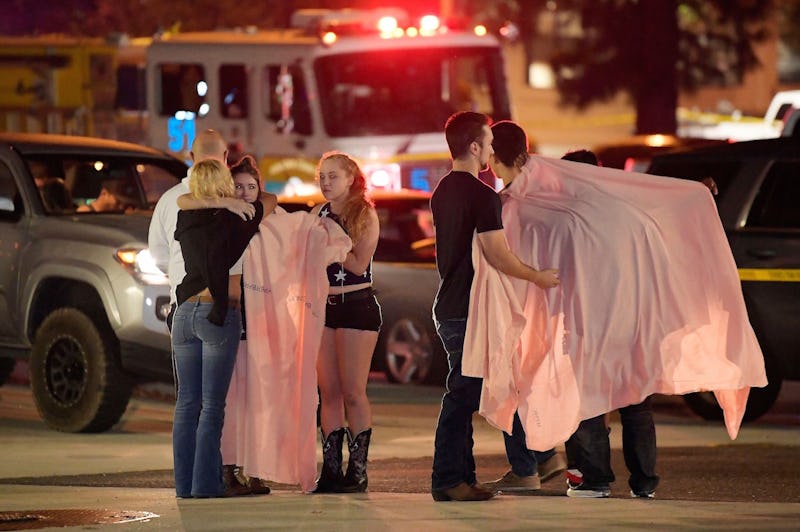 Mark J Terrill/AP/Shutterstock
Another tragic instance of gun violence shook the country on Wednesday night, this time hitting a California bar. The commander-in-chief weighed in early the next morning: President Donald Trump responded to the Thousand Oaks Borderline shooting with a tweet that called it "terrible."
"I have been fully briefed on the terrible shooting in California," he wrote on Thursday morning. "God bless all of the victims and families of the victims. Thank you to Law Enforcement." Bustle also reached out to the White House for comment.
At least 12 fatalities have been reported from the shooting, which took place at the Borderline Bar and Grill in the southern California city of Thousand Oaks. ABC reports that hundreds were dancing and drinking inside the country-themed establishment — according to the New York Times, it was hosting an event for college students — when a gunman entered just before 12 a.m. local time.
The county sheriff, Geoff Dean, told reporters that there were "multiple other victims of different levels of injuries." One of the murdered victims was Sergeant Ron Helus, a 29-year veteran who was among the officers responding to the shooting and one of the first to enter the bar. ABC reports that he was shot several times as he came in the front door.
Law enforcement declared the gunman to be dead on Thursday. Dean said it was not yet clear whether he had been killed by law enforcement or if he shot himself. He also said that the man's motive was currently unknown.
"There were at least 50 people that all tried getting up at once and running out the back door. I ended up getting caught in the ground and stumbled over by multiple people," Teylor Whittler — a young woman who was at Borderline for a friend's birthday — told ABC. "I got hit in the head by a stool that was being picked up to throw through a window, until some guy came up behind me and grabbed me and said, 'Get up, we have to go!'"
"I love this place — it's our usual hangout. My parents trust me going here," Erika Sigman, another woman who was inside during the shooting, told KABC. "It's very hard to comprehend. I've lived here all my life."
Just more than a year ago, a gunman attacked a country music festival in Las Vegas and murdered 58 people. Last month, a shooter killed 11 at a Pittsburgh synagogue.
Gun violence was a major issue for many who voted in the 2018 midterms on Tuesday. Gun control advocates secured wins with Democrats taking control of the House of Representatives, a measure passing in Washington state restricting access to assault rifles, per Vox, and NRA-endorsed governor candidates losing in places such as Nevada and Wisconsin.
But there were also many defeats, particularly in the Senate. Student survivors of February's shooting in Parkland, Florida, expressed anger to the Guardian after pro-gun candidates won at the state level just days after a mass shooting took place at a Tallahassee yoga studio.