Donald Trump Responded To The Third Kavanaugh Allegation By Attacking Michael Avenatti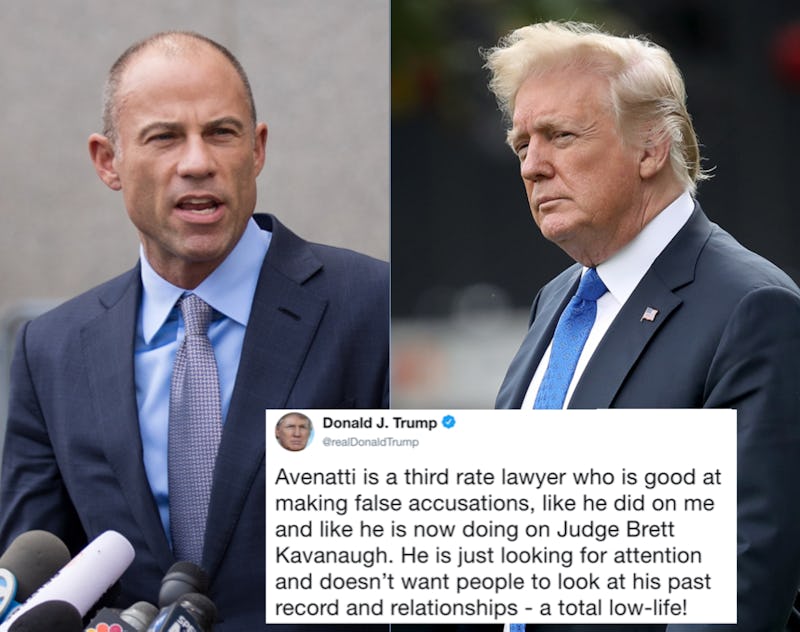 Drew Angerer/Getty Images News/Getty Images and Win McNamee/Getty Images News/Getty Images
On Wednesday, after a third woman came forward with allegations against his Supreme Court nominee, Brett Kavanaugh, President Donald Trump responded to Julie Swetnick's Kavanaugh allegation with a tweet blasting her lawyer, Michael Avenatti. Earlier, Avenatti tweeted a sworn declaration from Swetnick with allegations about Kavanaugh's behavior at parties when they were in high school. Through the White House, Kavanaugh has denied the allegation, as he has the first two allegations.
"Avenatti is a third rate lawyer who is good at making false accusations, like he did on me and like he is now doing on Judge Brett Kavanaugh," the president wrote. "He is just looking for attention and doesn't want people to look at his past record and relationships — a total low-life!"
Avenatti quickly responded to Trump's tweet on Wednesday. "'False accusations?' Like those crimes your fixer Cohen pled to?" he wrote. "You are an habitual liar and complete narcissist who also is a disgrace as a president and an embarrassment to our nation. You are so inept that your 'best and brightest' are Cohen and Giuliani. Let's go."
Earlier on Twitter on Wednesday, Avenatti released a screenshot of his recent correspondence with Mike Davis, the Senate Judiciary Committee's chief counsel on nominations. The image showed that Avenatti had informed Davis on Monday of new allegations against Kavanaugh from his client Julie Swetnick. Avenatti also released a copy of Swetnick's declaration outlining her claims.
In the document, Swetnick alleges that she went to more than 10 house parties in the early '80s with Kavanaugh and his friend, Mark Judge, who's been implicated in previous accusations. She claims that the two frequently took advantage of girls at the events, including harassing, assaulting, and raping them.
"I observed Brett Kavanaugh drink excessively at many of these parties and engage in abusive and physically aggressive behavior toward girls, including pressing girls against him without their consent, 'grinding' against girls, and attempting to remove or shift girls' clothing to expose private body parts," she wrote.
Swetnick also alleges that Kavanaugh and Judge sometimes attempted to spike the punch at parties "with drugs and/or grain alcohol so as to cause girls to lose their inhibitions and their ability to say 'No.'" The other two allegations against Kavanaugh come from women who claim that they were inebriated at parties when he took advantage of them.
"I also witnessed efforts by Mark Judge, Brett Kavanaugh and others to cause girls to become inebriated and disoriented so they could then be 'gang raped' in a side room or bedroom by a 'train' of numerous boys," Swetnick wrote. "I have a firm recollection of seeing boys lined up outside rooms at many of these parties waiting for their 'turn' with a girl inside the room. These boys included Mark Judge and Brett Kavanaugh."
Swetnick alleges that she herself was a victim of one of these gang rapes and that Kavanaugh and Judge "were present" when it happened. She claims that she told people about her rape and that she also knows of witnesses who can back up her account.
Avenatti first announced that he was representing another Kavanaugh accuser on Sunday and said that participation in gang rapes was among his client's allegations. During an interview with Fox News on Monday, Kavanaugh said that claim was untrue: "That's totally false and outrageous. I've never done any such thing, known about any such thing."
Swetnick's allegations come one day before Dr. Christine Blasey Ford is set to testify in front of the Senate Judiciary Committee about her own accusations against Kavanaugh (which he denies). Ford will appear before the committee at 10 a.m. ET on Thursday.