Trump Responds To Las Vegas: "It Was An Act Of Pure Evil"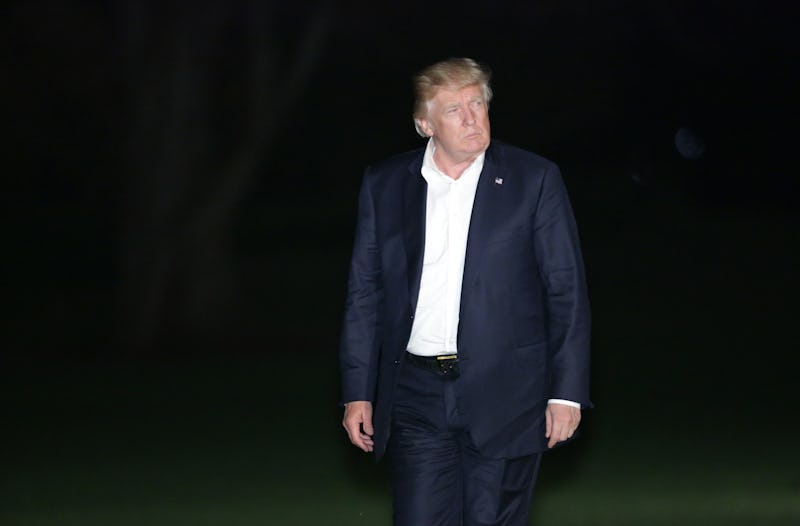 Pool/Getty Images News/Getty Images
On Monday morning, hours after the deadly Las Vegas shooting that rocked the nation and left at least 50 people dead and 400 injured, Trump addressed the nation about the Las Vegas massacre, noting, "It was an act of pure evil." The speech came at a pre-prepared deregulation summit, and mark Trump's first comments to the nation following a mass shooting of this degree.
"We are joined together today in sadness, shock, and grief," Trump said while opening his speech, quoting the Bible: "The Lord is near to the brokenhearted and saves the crushed in spirit." Of the gunman, he noted: "He brutally murdered more than 50 people and wounded hundreds more."
Regarding the first responders, Trump had words of thanks and gratitude. "The speed with which they acted is miraculous and prevented further loss of life," he said.
"To the families of the victims, we are praying for you and we are here for you and we ask God to help see you through this very dark period," the president said, adding: "In moments of tragedy and horror, America comes together as one and it always has."
"Our unity cannot be shattered by evil, our bonds cannot be broken by violence," he noted.
The Las Vegas massacre is the most deadly mass shooting in United States history. Until Sunday evening, the worst mass shooting in U.S. history had been the Pulse massacre in Orlando, Florida, in which 49 people were killed at a LGBTQ nightclub.
Trump had already faced a barrage of criticism this weekend following his handling of Puerto Rico, which has been left devastated and without power in roughly one-half of its homes following Hurricane Maria. Trump's White House took more than a week to temporarily lift the Jones Act, an obscure shipping law that made getting supplies to and from Puerto Rico more difficult and severely more expensive.
The speech on Las Vegas was, crucially, missing two elements: Any mention of policy that would prevent future tragedies, and any reference to the shooter as a terrorist.