Trump Feels "Badly" For His Ex-Campaign Manager Who Was Just Found Guilty Of Fraud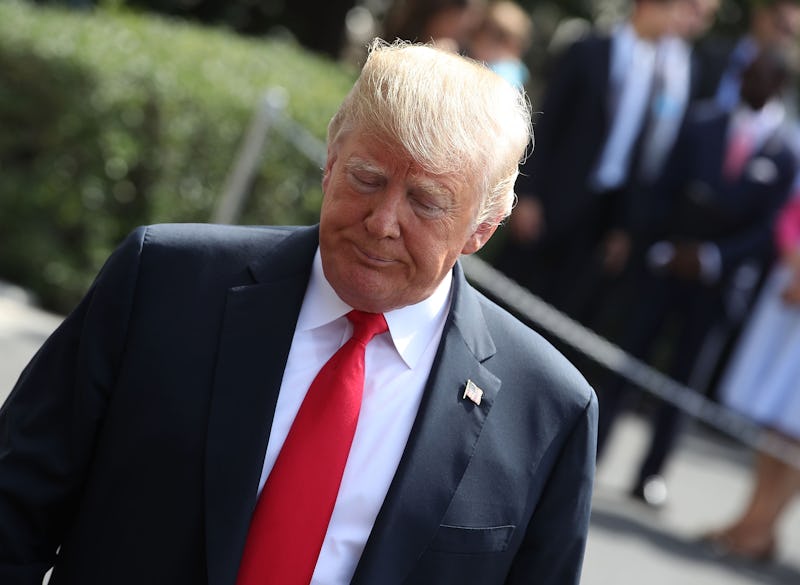 Mark Wilson/Getty Images News/Getty Images
President Donald Trump has let the world know, time and time again, that he is not happy about the fact that his former campaign manager, Paul Manafort was on trial for multiple counts of bank and tax fraud. Now that the trial has ended with a verdict of guilty on eight counts on Tuesday, Aug. 21, Trump's response to the Manafort verdict appeared to distance himself from his ex-campaign manager, as well as reiterating that the special counsel's Russia investigation was a "disgrace."
Reporters swamped Trump with questions as soon as he landed in West Virginia for his rally. In a video clip shared by CNBC News, Trump said:
It doesn't involve me but, you know, it's a very sad thing that happened. This has nothing to do with Russian collusion. … This is witch-hunt and a disgrace. … I feel very badly for Paul Manafort. Again, he worked for Bob Dole, he worked for Ronald Reagan. He worked for many people. ... It was not the original mission, believe me. It was something very much different. It had nothing to do with Russian collusion.
Previously, during the trial, Trump spoke out in Manafort's defense. The Guardian noted that this was a highly unusual step for a president to take during an ongoing trial of someone so closely connected to him because of the potential effect it could have on the jurors.
"I think the whole Manafort trial is very sad," Trump had said on the White House lawn, according to The Guardian. "I think it's a very sad day for our country. He happens to be a very good person, and I think it's very sad what they've done to Paul Manafort."
Manafort was on trial for 18 counts of evading taxes, defrauding banks, and failing to report foreign bank accounts when filing his U.S. taxes, according to CNN. Manafort will now wait for the sentencing hearing and wait for his next trial, which is set to take place in September. That trial, USA Today reported, will center around charges of money laundering, unreported foreign lobbying, and lying to the FBI.
Legal developments concerning Manafort come after Special Counsel Robert Mueller and his prosecution team led an 18-count case against him detailing witness tampering — in addition to financial fraud — in February. ABC News reported that during the ongoing trial, one of defense attorneys for Manafort attempted to shift blame of financial duplicity on another Republican figure named Rick Gates. But, ultimately, Manafort's defense team let the shifting go.
It's difficult to say what could become of Manafort now that his sentencing remains. Given the gravity of each charge he has been declared guilty of, Manafort could potentially spend a maximum of 80 years in federal prison. But it's unlikely that the judge's sentence will go to that extent.
While Trump certainly expressed his emotions as "very sad" for Manafort, the prosecution team seemed less interested in praising the Republican. ABC News reported that special counsel prosecutor Greg Andres said that Manafort was "not above the law" and that "When you follow the trail of Mr. Manafort's money, it's littered with lies."
Mehreen Kasana contributed to this report.