Trump Says An "Armed Guard" Could've Stopped The Pittsburgh Synagogue Shooting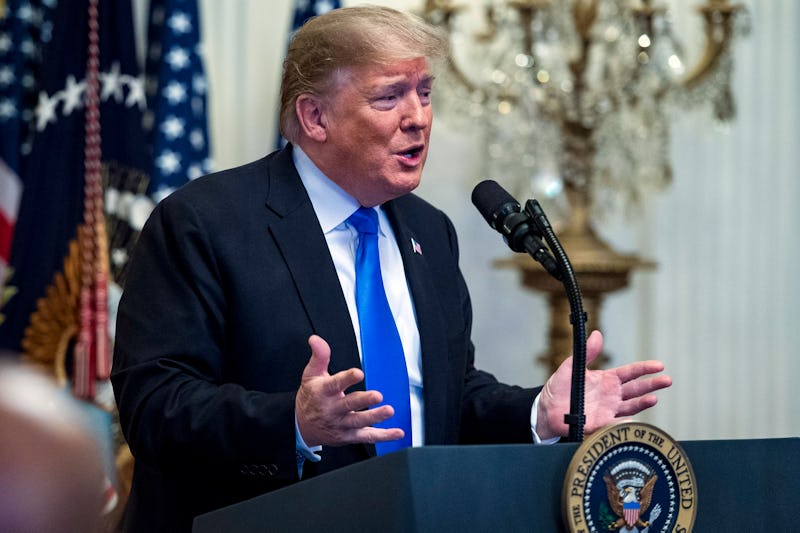 Pete Marovich/Getty Images News/Getty Images
On Saturday, a gunman opened fire at the Tree of Life Synagogue in Pittsburgh, killing multiple people and injuring others. Shortly afterward, President Donald Trump stated that an armed guard could have stopped the shooting, had there been one inside the synagogue.
"If they had some kind of a protection inside the temple, then it could have maybe been a very different situation," Trump said, according to CNN's Jeremy Diamond. "They didn't."
Three police officers were shot when they confronted the gunman, CNN reported. An unnamed law enforcement official reportedly told CNN that the gunman made anti-Semitic comments. According to The Hill, Trump subsequently argued that the "wacko" shooter "should pay the ultimate price" — the death penalty.
"We should stiffen up our laws in terms of the death penalty," Trump said. "When people do this they should get the death penalty … they should very much bring the death penalty into vogue."
"Anybody that does a thing like this to innocent people that are in temple or in church" should face the death penalty, Trump added.
When asked about potentially tightening gun laws following the mass shooting at the synagogue, Trump told reporters that "this has little to do with it." According to multiple sources, including CNN's Diamond and Politico, Trump decried the rising "hate" and violence across the country, but did not specifically address anti-Semitism.
"It's a terrible thing what's going on with hate in our country," Trump said.
Michael Eisenberg, the immediate past president of Tree of Life Congregation Synagogue, told WPXI there is a police presence at the synagogue on important holidays. However, Saturday's shooting took place during a regular religious service, and people could "walk in and out," Eisenberg said.
Earlier on Saturday, Trump took to Twitter to urge people in Pittsburgh's Squirrel Hill neighborhood to "remain sheltered" due to an active shooter. He later tweeted that "events in Pittsburgh are far more devastating than originally thought."
"Spoke with Mayor and Governor to inform them that the Federal Government has been, and will be, with them all the way," Trump tweeted after the shooting.
This is not the first time Trump has called for armed guards in response to a mass shooting. He has previously suggested that teachers should be armed in order to prevent school shootings. However, Pennsylvania Gov. Tom Wolf had a very different response to Saturday's synagogue shooting.
"We must all pray and hope for no more loss of life," Wolf said in a statement. "But we have been saying 'this one is too many' for far too long. Dangerous weapons are putting our citizens in harm's way. ... We cannot accept this violence as normal."
Trump was not the only member of his administration to respond to the synagogue shooting on Twitter. Vice President Mike Pence tweeted that he was "praying for the fallen, the injured, all the families impacted, and our courageous first responders," while Melania Trump tweeted that her "heart breaks over the news out of #Pittsburgh."
"The violence needs to stop," Melania tweeted. "May God bless, guide & unite the United States of America."
NBC News cited law enforcement officials as saying that 12 people were shot at the synagogue, and that there were at least eight fatalities.