Trump Responds To The Texas Shooting & It's So Different From His Reaction To The NYC Attack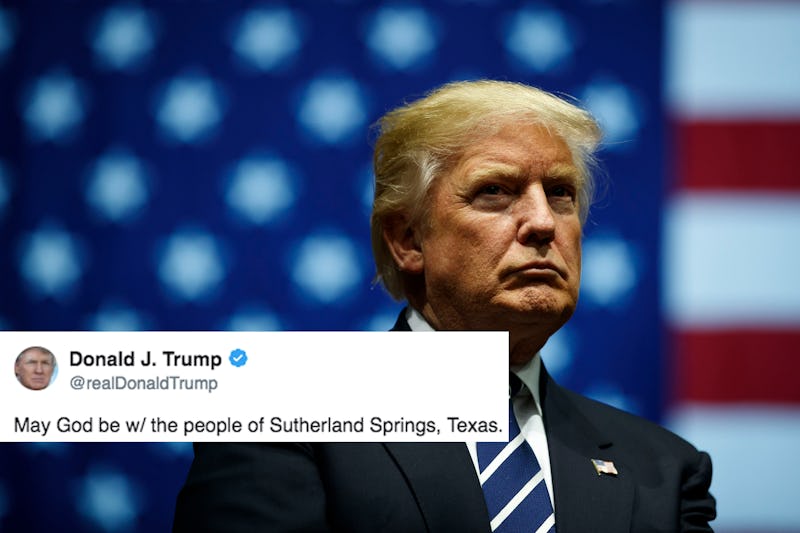 Drew Angerer/Getty Images News/Getty Images
Shortly after reports from local sources emerged on a devastating church shooting in Sutherland Springs, Texas, Donald Trump issued a statement on Sunday via Twitter. The president wrote:
May God be w/ the people of Sutherland Springs, Texas. The FBI & law enforcement are on the scene. I am monitoring the situation from Japan.
A comparison brought up by some Twitter users showed that Trump's statement on the church shooting on Sunday seemed to be significantly different than his statement on another recent violent incident in New York City. Shortly after a vehicle attack in Lower Manhattan killed eight people on Oct. 31, Trump had tweeted:
In NYC, looks like another attack by a very sick and deranged person. Law enforcement is following this closely. NOT IN THE U.S.A.!
Authorities confirmed to CBS News that 26 people were killed in the Sunday church shooting after a gunman allegedly opened fire on a congregation. The attack reportedly took place in Wilson County, in the small town of Sutherland Springs. In addition to multiple people being reportedly killed, several dozens were injured while police authorities claimed that the death toll was expected to be higher.
Officials say the gunman was reportedly killed in pursuit and at this moment, it is not clear what motive the attacker had for opening fire on the church-goers. Authorities also added that they were searching for other possible shooters. As Albert Gamez Jr., a precinct commissioner in Wilson County, told media:
The details are kind of sketchy but what I know right now, what they're telling me, like 27 deceased and over 20, 25 injured.
Witnesses claim that they heard gunfire from the church around noon on Sunday. Carrie Matula, a witness, told NBC News that she "heard semi-automatic gunfire" and added, "This is a very small community, so everyone was very cautious as to what was going on."
Soon after the reports of the alleged church shooting went up, social media users compared the president's Sutherland Springs' statement with his New York City remarks. Some observers said that the likelihood of Trump vociferously condemning the shooting hinged on the "skin color" of the shooter.
"Will Trump condemn the shooting in Sutherland Springs?" one user tweeted. Sadly, that depends on the skin color of the shooter."
Only a few days after reports of the attack in Lower Manhattan, Trump issued eyebrow-raising statements on his Twitter. Trump tweeted that the alleged attacker "should get death penalty!" In another tweet, he said, "[I] would love to send the NYC terrorist to Guantanamo but statistically that process takes much longer than going through the Federal system," adding, "There is also something appropriate about keeping him in the home of the horrible crime he committed. Should move fast. DEATH PENALTY!"
In addition to these remarks, Trump took aim at immigration policies in the United States and focused on the Diversity Visa Lottery. The so-called "lottery" is a rather obscure program in the American immigration system that was first formulated in the Immigration Act of 1965 — Trump called to end it.
In one tweet, the president said, "I am calling on Congress to TERMINATE the diversity visa lottery program that presents significant vulnerabilities to our national security." Trump called it a "disaster" for America and added, "Congress must end chain migration so that we can have a system that is SECURITY BASED! We need to make AMERICA SAFE! #USA"
The Sutherland Springs church shooting on Sunday will be yet another addition to America's lengthy list of mass shootings. Only a month ago, a mass shooter opened fire on almost 22,000 concert-goers in Las Vegas, reportedly killed more than 50 people and injured more than 500.
According to research compiled by the Gun Violence Archive, there have been over 270 shootings in the United States this year — that's almost every day of 2017.