Trump Spent The Morning Retweeting Insane Islamophobic Propaganda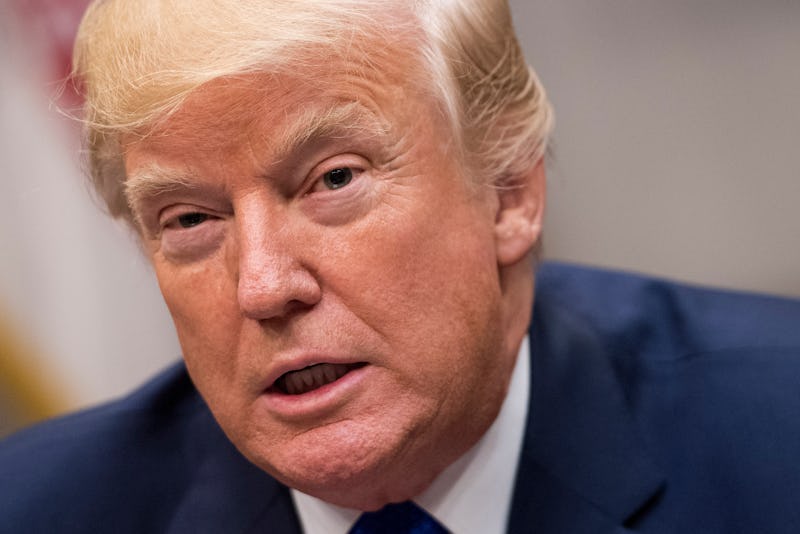 Pool/Getty Images News/Getty Images
On Wednesday morning, President Donald Trump retweeted anti-Muslim videos from Britain First deputy leader Jayda Fransen to his 43.6 million followers. Trump's decision to share her Islamophobic videos shocked many on Twitter, and sparked widespread backlash on social media.
The videos Fransen tweeted showed what she claimed were Muslims attacking anti-Muslims. One of them was of a bearded man smashing a statue of Virgin Mary; she captioned it "Muslim Destroys a Statue of Virgin Mary!"
In a statement following the retweets, the Council of British Muslims decried it as the "clearest endorsement yet from the US President of the far-right and their vile anti-Muslim propaganda." The council called on Prime Minister Theresa May and U.K. Home Secretary Amber Rudd to "distance the UK from Mr. Trump and his comments, and will reiterate the government's abhorrence to all forms of extremism. ... We cannot give bigotry a free pass."
Fransen, the woman who tweeted the videos, is a prominent member of the far-right ultranationalist group Britain First whose slogan is "taking our country back," particularly from people they see as not "British." The U.K.-based anti-racism watchdog Hope Not Hate classifies Britain First as an "anti-Islam, anti-immigration, nationalist" group that has "created a climate of fear amongst Muslim communities."
"We want our people to come first, before foreigners, asylum seekers or migrants, and we are overtly proud of this stance," the group's website reads. They also explicitly endorse Christianity, claiming that it will "restore" the religion "as the bedrock and foundation of our national life as it has been for the last one thousand years."
Fransen is a deeply controversial figure in the U.K. In 2016, she was found guilty of "religiously aggravated harassment," The Guardian reported, and fined almost £2,000 for verbally harassing a Muslim mother out with her four children. Fransen admitted to telling the woman that Muslim men "cannot control their sexual urges" and that's why Muslim women must cover themselves.
The comments came as she "patrolled" the area with a Christian group, handing out newspapers headlined "World War Three has begun—Islam against the world."
"That's why they are coming into my country raping women across the continent," Fransen also admitted to saying. The admission of guilt didn't change the ruling from the judge. "The reason I said them was because from everything I have studied, I understand them to be true," she said in her defense.
She was also charged with "threatening, abusive or insulting words or behavior" during one of her so-called "anti-terrorism" protests in Britain, The Daily Beast reported, and is expected to show up in court next month.
On Wednesday, Fransen gleefully noted on Twitter that the president had retweeted her.
THE PRESIDENT OF THE UNITED STATES, DONALD TRUMP, HAS RETWEETED THREE OF DEPUTY LEADER JAYDA FRANSEN'S TWITTER VIDEOS! DONALD TRUMP HIMSELF HAS RETWEETED THESE VIDEOS AND HAS AROUND 44 MILLION FOLLOWERS! GOD BLESS YOU TRUMP! GOD BLESS AMERICA!
The far-right crusader also posted several articles from the mainstream media about Trump retweeting her.
Meanwhile, Trump has been roundly excoriated on the internet for what many said was an endorsement of her anti-Muslim message. BuzzFeed U.K. political editor Jim Waterson retweeted a photo of Fransen being interviewed by CBS News over Trump retweeting her.
Britain First was struggling for UK media coverage until this morning, now this.
It is unclear if Trump knew of Fransen or considered the implications of his actions. The president did not respond to criticisms online of his retweets. Instead, he returned to tweeting attacks at CNN and calling for various NBC executives to be fired from the network.