There's One Major Problem With Trump's Tax Bill Claim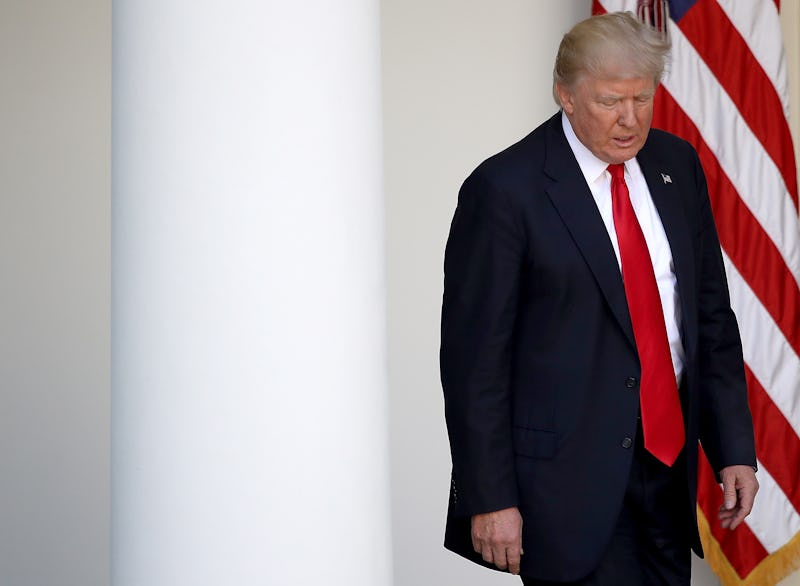 Win McNamee/Getty Images News/Getty Images
In his statement on withdrawing from the Paris climate accord, Donald Trump touted a number of questionable facts and erroneous or one-sided claims. Among them was Trump's claim that his tax bill was making progress in Congress.
"Our tax bill is moving along in Congress, and I believe it's doing very well," Trump said Thursday in a speech delivered from the White House's Rose Garden. "I think a lot of people will be very pleasantly surprised."
There's just one problem: As it turns out, his tax bill doesn't exist.
The following day, people started to notice, and needless to say, they were surprised, given that the White House has not yet presented either chamber of Congress with a tax bill. In fact, in an interview Friday, White House economic adviser Gary Cohn couldn't tell Bloomberg exactly when the Trump administration would have a detailed tax plan to present, instead saying only that they were working hard to get the job done by the end of the year. Later, Cohn told Fox News the White House would have "a very detailed drafted tax plan" for Congress as soon as legislators returned from the August recess. So, those who are curious about this supposed "tax bill" are going to have to wait to see what it actually entails.
The only thing Congress has seen from the White House to date is a one-page outline of Trump's tax proposal, which was released in late April. That outline called for trillions of dollars in both individual and corporate tax cuts but failed to go into detail on how the White House proposed to pay for them, leaving many legislators skeptical. At the time the outline of the proposal was released, CNN reported some Republican aides were claiming the White House was "not constructively contributing to a serious discussion of tax reform."
But Trump seemed unconcerned Thursday that Congress has yet to actually see a tax bill from the White House, applauding the hard work Republicans were supposedly putting in to pass it.
"The Republicans are working very, very hard," Trump said. "We'd love to have support from the Democrats, but we may have to go it alone. But it's going very well."
It's unclear whether Trump purposefully fabricated both a tax bill and his administration's progress on it or if he had confused the one-page outline his administration released with actual legislation. Either way, it's certainly not the first time the president has put forth so-called "alternative facts," nor is it likely to be the last.