Trump Compared Blaming Saudi Arabia For A Missing Journalist To The Kavanaugh Allegations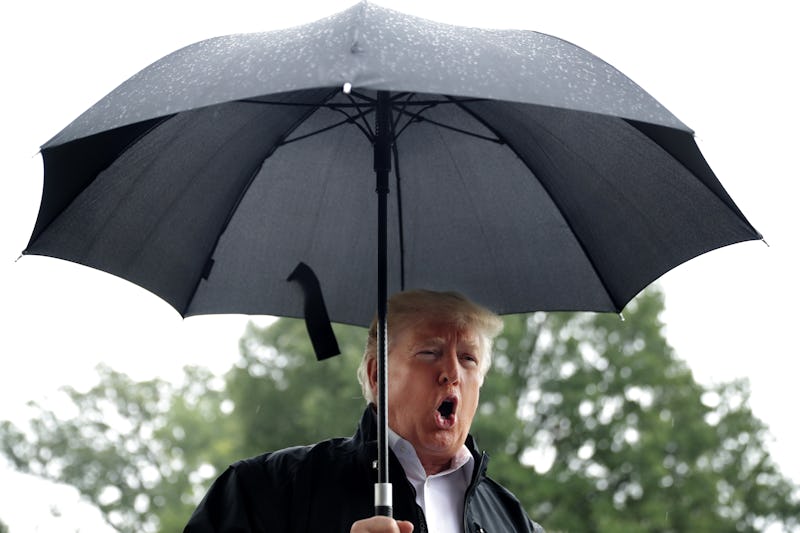 Chip Somodevilla/Getty Images News/Getty Images
The disappearance of Saudi Arabian journalist Jamal Khashoggi two weeks ago in Istanbul sent shockwaves through the international community. Turkish officials claim they have audio and video evidence proving that the Saudi government killed him, but the Saudis staunchly deny having played any role in his possible death. Meanwhile, President Trump said that criticizing Saudi Arabia over Khashoggi is unfair, and compared the whole incident to the sexual assault allegations against Supreme Court Justice Brett Kavanaugh.
"I think we have to find out what happened first," Trump told the Associated Press Tuesday. "Here we go again with, you know, you're guilty until proven innocent. I don't like that. We just went through that with Justice Kavanaugh and he was innocent all the way, as far as I'm concerned." Bustle has reached out to the White House for comment.
Kavanaugh was accused of sexual misconduct by several women prior to his confirmation to the Supreme Court. He denied all of them categorically, and Trump said that he believes him.
However, Trump's feelings on the presumption of innocence usually depend on who is being accused of wrongdoing. When five black and Latino teenagers were accused — falsely, as courts would later determine — of raping a white woman in Central Park in 1989, for instance, Trump spent $85,000 on a full-page newspaper ad calling for their execution before the initial trial was finished. When the teenagers were later exonerated with DNA evidence, Trump refused to apologize and told the New York Times that he still believes they're guilty, 14 years after.
Similarly, Trump has said that Hillary Clinton is guilty of colluding with Russia during the 2016 presidential election, a claim he made with no evidence and which hasn't been litigated in court.
The president often strikes the opposite note, however, when his political allies are the ones being accused of misdeeds. In 2017, when Republican Senate candidate Roy Moore was accused of molesting a 14-year-old, Trump defended Moore on the grounds that "he says it didn't happen."
"You have to listen to him," Trump insisted. Around that same time, however, Trump condemned then-Sen. Al Franken, a Democrat, over allegations that he had groped several women.
Khashoggi, who wrote for the Washington Post and other publications, entered the Saudi consulate in Istanbul on October 2nd, reportedly to obtain papers that would allow him to marry his Turkish fiancee, and hasn't been seen since.
This quickly set off speculation that Khashoggi, a staunch critic of Saudi Crown Prince Mohammed bin Salman, had been killed by the Saudi government. Saudi Arabia's interior minister brushed off these rumors, calling them "lies and baseless allegations" in a statement released Saturday. However, it was then reported that Turkish police, in their subsequent investigation, found evidence that Khashoggi was killed at the consulate.
Shortly thereafter, various American media outlets reported that the Saudi government would soon admit that Khashoggi was killed in an "interrogation" gone wrong. As of this writing, Saudi Arabia has released no such statement, however. On Tuesday, it was reported that Turkish officials believe Khashoggi was killed and dismembered by a group of Saudis at the consulate, possibly with a bone saw.
Trump, for his part, has thus far been skeptical of claims that the Saudi government killed, or authorized the killing of, Khashoggi. Noting that Saudi's king denies the allegations, Trump speculated that "maybe these could have been rogue killers" acting without the knowledge or approval of the Saudi government.