Trump Reportedly Said Firing Comey Relieved "Great Pressure" Over Russia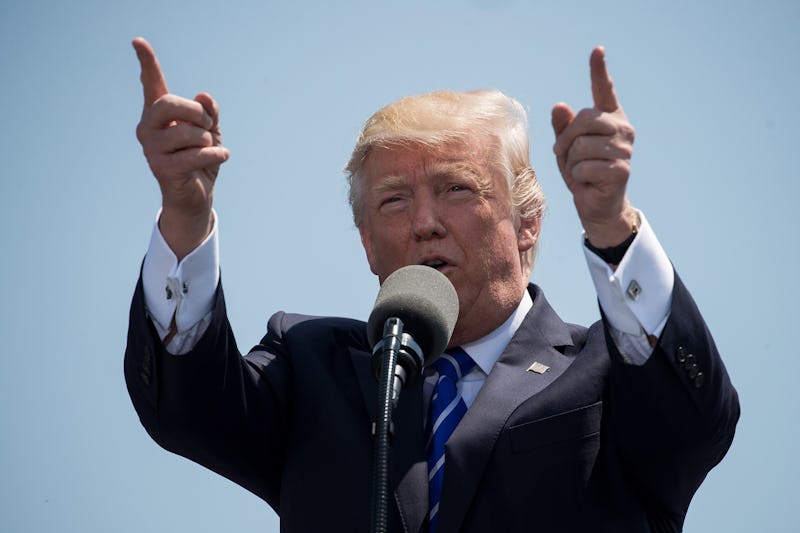 Drew Angerer/Getty Images News/Getty Images
It appears the closed-press meeting President Donald Trump held with Russian officials earlier this month is continuing to cause nothing but problems for his administration. According to a bombshell New York Times report published Friday, Trump allegedly said in the meeting that firing James Comey relieved "great pressure" on him. The president also reportedly described the former FBI director as "crazy, a real nut job," according to a document summarizing the meeting.
"I just fired the head of the FBI. He was crazy, a real nut job," Trump told Russian Foreign Minister Sergey V. Lavrov and Russian Ambassador to the United States Sergey I. Kislyak during a meeting in the Oval Office earlier this month, according to the Times report.
"I faced great pressure because of Russia. That's taken off," Trump allegedly said. "I'm not under investigation."
The Times claimed Trump's comments were recorded in a document summarizing the meeting that was read to the newspaper by an unnamed American official. In a statement to the newspaper, White House Press Secretary Sean Spicer did not directly deny claims the president had told Russian officials he felt firing Comey had taken the pressure of the Russia investigation off him.
"The President has always emphasized the importance of making deals with Russia as it relates to Syria, Ukraine, defeating ISIS, and other key issues for the benefit and safety of the American people," Spicer said in a statement regarding to the Times' scoop. "By grandstanding and politicizing the investigation into Russia's actions, James Comey created unnecessary pressure on our ability to engage and negotiate with Russia. The investigation would have always continued, and obviously, the termination of Comey would not have ended it."
While Times reporters focused on Trump's alleged comments to Lavrov and Kislyak, Spicer argued the real story was that someone was undermining national security by leaking the contents of the president's conversations. "Once again, the real story is that our national security has been undermined by the leaking of private and highly classified conversations," Spicer said.
Initially, the White House had claimed Trump's decision to fire Comey was unrelated to the FBI's Russia investigation. They said Comey's termination was based on the recommendation of the Justice Department and tied to his handling of the investigation into Hillary Clinton's use of a private email server while serving as secretary of state.
Trump later told NBC News, however, that had he decided to fire Comey before it had been recommended by Department of Justice officials, and implied that his decision had been, at least in part, motivated by the FBI's Russia investigation. "When I decided to just do it, I said to myself — I said, you know, this Russia thing with Trump and Russia is a made-up story," Trump told NBC's Lester Holt. Trump also called Comey names in that NBC interview, although by his standards, it was markedly more restrained. Comey, he said, was "a showboat" and a "grandstander."