Trump Is Straight-Up Defending White Supremacists Now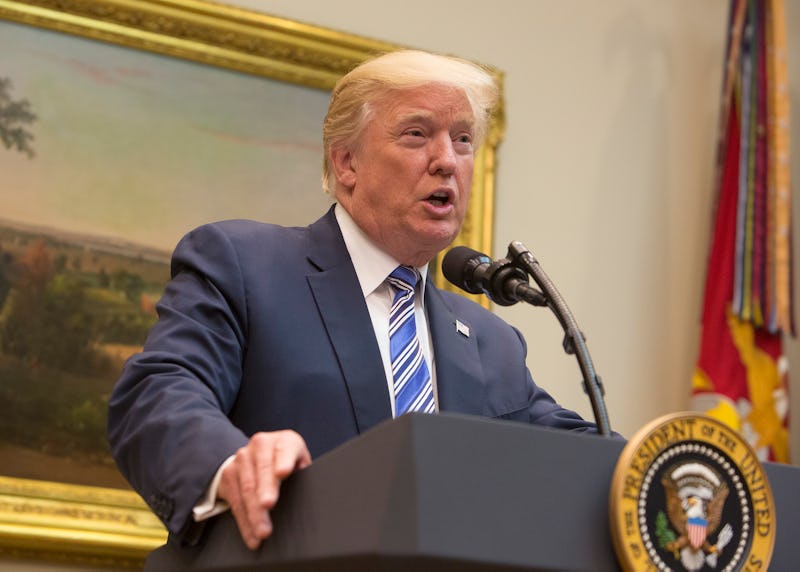 Pool/Getty Images News/Getty Images
During a press conference announcing a new executive order on infrastructure Tuesday, President Donald Trump took questions from the press, which focused on the events in Charlottesville, VA. over the weekend. When reporters asked him about why his initial statement did not include a condemnation of white supremacists in Charlottesville, Trump blamed the "alt-left" saying that they bear responsibility for the violence at the protest, but "nobody wants to say it."
Trump waited two days before he condemned white supremacists for the violence in Charlottesville in which three people died. During the press conference at Trump Tower Tuesday, Trump also explained that he waited so long to denounce racism and Nazis who protested because he wanted to have all of the facts before he did so. Trump also told reporters, '"we still don't know all the facts" about who was involved in the protest and violence that ensued.
Trump launched into a speech about the alt-left in Charlottesville to the reporters assembled, saying,
What about the fact [that] they came charging, they came charging with clubs in the hand, swinging clubs. Do they have any problem? I think they do... You had a group on one side that was bad and you had a group on the other side that was also very violent. And nobody wants to say that, but I'll say it right now.
In his initial statement on the protests in Charlottesville, Trump blamed "many sides," saying he condemned "in the strongest possible term this egregious display of hatred, bigotry, and violence on many sides." Trump received a wave of criticism for not calling out the KKK, Nazis, and white supremacists' role in the protests. On Monday, Trump released another statement blaming the KKK and neo-Nazis, declaring, "Racism is evil, and those who cause violence in its name are criminals and thugs, including the KKK, neo-Nazis and white supremacists and other hate groups that are repugnant to everything we hold dear as Americans."
However, Trumps comments on Tuesday suggest he is leaning toward his initial statement that many sides were responsible for the violence that occured in Charlottesville.
In saying the "alt-left," Trump is most likely referring to antifa, an anti-fascism group. Reportedly, antifa members were a part of the counter protester group who opposed those gathered to protest the removal of Gen. Robert E. Lee's statue from Charlottesville. Antifa uses violent tactics to oppose fascism. More than 200 people, some of which were linked to antifa's "black bloc" protests were arrested on Inauguration Day during violent protests that included setting fires and smashing business' windows.