Trump "Did NOT Know" About The Don Jr. Meeting His Ex-Lawyer Says He Totally Knew About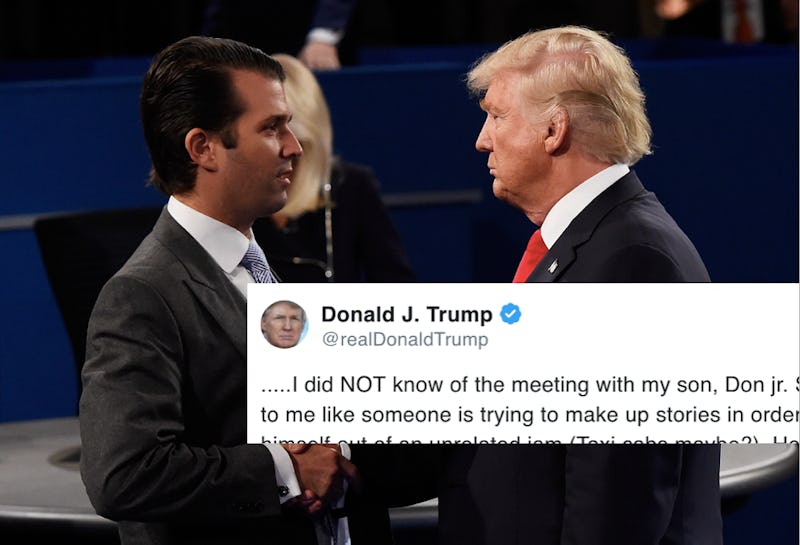 Pool/Getty Images News/Getty Images
President Donald Trump lashed out at his former personal attorney Michael Cohen in an early-morning Twitter rant Friday. In a series of lengthy tweets, Trump denied Cohen's claim he knew that Donald Jr., his son, planned to meet with Russians promising to provide dirt on then-Democratic nominee Hillary Clinton. Trump also questioned his former attorney's choice of legal representation.
"No, I did NOT know of the meeting with my son, Don jr.," Trump wrote in a three-part Twitter message Friday. "Sounds to me like someone is trying to make up stories in order to get himself out of an unrelated jam (Taxi cabs maybe?)."
Trump's tweet came hours after reports surfaced of Cohen's willingness to discuss Trump's reported knowledge of his son's Trump Tower Russian meeting with Special Counsel Robert Mueller. According to CNN, Cohen has alleged that the president had advanced knowledge of Donald Jr.'s June 2016 meeting with Russian lawyer, Natalia Veselnitskaya, who had reportedly promised to pass along damaging information about Clinton.
Trump has previously said he was unaware of the meeting between Veselnitskaya and his son until the New York Times approached him about it in July 2017.
But according to CNN, Cohen has claimed he was present when Trump was not only told about the Russians' offer to dish dirt on Clinton, but also approved his son's plans to go ahead with the meeting. Jared Kushner, Trump's son-in-law, and Paul Manafort, then the manager of the Trump campaign, also attended Donald Jr.'s meeting with Veselnitskaya, who admitted to working as an informant of the Russian government in an April interview with NBC News. Cohen is now reportedly willing to discuss that meeting and Trump's reported knowledge of it with Mueller.
Trump's mention of taxi cabs is believed to be a reference to Cohen's ownership of dozens of New York taxicab medallions, which reportedly peaked the interest of FBI investigators. Evgeny "Gene" Freidman, one of Cohen's taxicab business partners, plead guilty to skipping out on $50,000 in state taxes related to his taxi dealings as part of a cooperation deal hammered out with federal and state prosecutors earlier this year. But Freidman later told the New York Daily News his plea deal had "nothing to do" with Cohen.
The president also denounced Cohen's choice of legal representation via Twitter on Friday. "He even retained Bill and Crooked Hillary's lawyer," Trump tweeted in an apparent reference to attorney Lanny Davis. "Gee, I wonder if they helped him make the choice!" According to CNN, Davis once represented former President Bill Clinton, serving as his special White House counsel and defending him from a series of fundraising allegations related to his 1996 re-election campaign.
Davis recently told CNN that, "like most of America," he had been following Cohen's story "with great interest" and was especially struck by Cohen's interview with ABC in early July. "I read his words published on July 2, and I recognized his sincerity," Davis said. "Michael Cohen deserves to tell his side of the story — subject, of course, to the advice of counsel."
In his three-part Twitter rant Friday, President Trump also lashed out at Mueller's team of investigators for "looking at my Tweets." Reports surfaced earlier this week that claimed Mueller was examining Trump's tweets regarding Attorney General Jeff Sessions and former FBI Director James Comey to determine if they amounted to an attempt to obstruct justice through witness intimidation.
"Arrived back in Washington last night...only to be greeted with the ridiculous news that the highly conflicted Robert Mueller and his gang of 13 Angry Democrats obviously cannot find Collusion...so now they are looking at my Tweets (along with 53 million other people)," Trump tweeted. "The rigged Witch Hunt continues!"