Trump Threatens To "Close The Border Permanently" After A Dangerous Day At A Crossing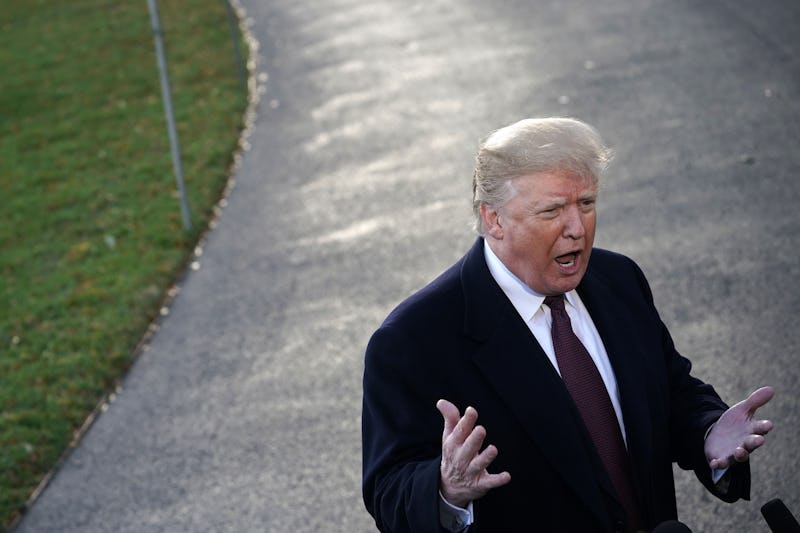 Alex Wong/Getty Images News/Getty Images
Following reports of unrest along the U.S.-Mexico border, President Donald Trump said he'll permanently close the border "if need be." In a tweet published early Monday, Trump urged Mexican officials to round up the thousands of Central American migrants currently seeking entrance into the United States and return them to their various countries of origin, warning that "they are NOT coming into the USA."
"Mexico should move the flag waving Migrants, many of whom are stone cold criminals, back to their countries," the president tweeted Monday. "Do it by plane, do it by bus, do it anyway you want, but they are NOT coming into the U.S.A. We will close the Border permanently if need be. Congress, fund the WALL!"
Trump's tweet came less than 24 hours after U.S. Customs and Border Protection officials temporarily shut down the normally busy San Ysidro Port of Entry, which lies between San Diego in California and Tijuana in Mexico, after reportedly firing tear gas at hundreds of migrants who sought entrance into the country. According to NBC News, Custom and Border Protection officials claimed migrants had thrown rocks at border agents, thus prompting the use of tear gas.
"DHS will not tolerate this type of lawlessness and will not hesitate to shut down ports of entry for security and public safety reasons," the news outlet reported Department of Homeland Security Secretary Kirstjen Nielsen said in a statement released Sunday.
The human rights organization Amnesty International condemned the situation at the border Sunday. "Families are frightened and soldiers are shooting tear gas at toddlers. We must choose to be better than this," the NGO tweeted. "@realDonaldTrump expected nothing less when he deployed thousands of troops to the border with the order to shoot to kill."
According to The Washington Post, authorities in Mexico have said they would move to deport individuals who attempted to cross the border illegally. On Monday, 39 people were reported by CNN to have been arrested on suspicion of attempting to cross the border illegally by law enforcement officials in Tijuana. Another 42 people were reported by The Washington Post to have been arrested on the U.S. side.
But Monday's tweet was not the first time President Trump has threatened to shut down the U.S.-Mexico border amid reports that a "migrant caravan" was heading toward the border. "If for any reason it becomes necessary, we will CLOSE our Southern Border," Trump tweeted Sunday. "There is no way that the United States will, after decades of abuse, put up with this costly and dangerous situation anymore!"
In a separate tweet also posted Sunday, the president claimed Central American countries allowed "caravans" of asylum-seeking people to form because it was a means of "dumping" what he called "certain people" into the United States. "Would be very SMART if Mexico would stop the Caravans long before they get to our Southern Border, or if originating countries would not let them form," he wrote. "Dems created this problem. No crossings!"
Sunday's episode of unrest at the border comes on the heels of reports the Trump administration had failed to secure the support of Mexico's incoming government for a proposed policy that would require asylum seekers to remain in Mexico while their applications are processed. Mexico's incoming interior secretary denied reports the incoming government had agreed to cooperate with the Trump administration's proposed policy in a statement to CNN on Sunday.