Trump's New Defense Of Kavanaugh Focuses On The Young Men Of America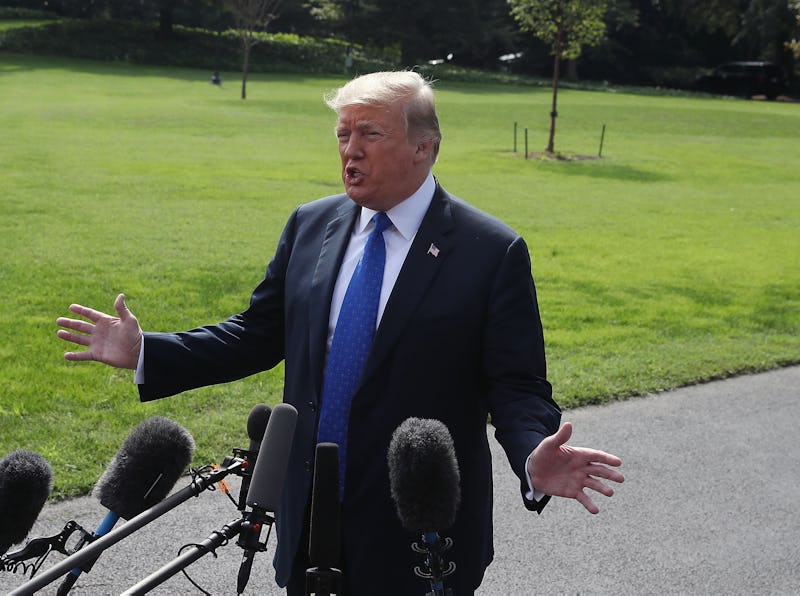 Mark Wilson/Getty Images News/Getty Images
President Donald Trump spoke on the topic of sexual assault allegations with regards to the reopened FBI investigation surrounding Brett Kavanaugh's nomination — and he sided with his pick for SCOTUS once again. Trump defended Kavanaugh and said it's "a very scary time for young men in America."
Trump gave the statement on the South Lawn before leaving the White House, and it was caught on tape. "It is a very scary time for young men in America, when you can be guilty of something that you may not be guilty of. This is a very, very difficult time," Trump told reporters. "You can be accused before you prove your innocence."
Kavanaugh has been accused of sexual assault and misconduct but has denied all allegations.
Trump didn't attack Kavanaugh's accuser, Dr. Christine Blasey Ford, who testified last week in front of the Senate Judiciary Committee. Instead he spoke in general terms about what "you" could experience and used details from her allegations to connect it to the moment.
"You can be an exemplary person for 35 years and then somebody comes and they say, 'You did this or that,' and they give three witnesses," Trump told the reporters. "And the three witnesses at this point do not corroborate what you were saying, it's a very scary situation. The way you're guilty until proven innocent."
"My whole life I've heard, 'You're innocent until proven guilty,'" Trump continued. "Now you're guilty until proven innocent, and that's a very, very difficult standard." He repeated the same argument several times with slightly different wording. Most of the comments spoke to men who, he said ,can now be accused of misconduct.
"You could be somebody that was perfect your entire life and somebody could accuse you of something — doesn't necessarily have to be a woman, as everybody is saying — but somebody could accuse you of something and you're automatically guilty," Trump told reporters. "In this round you're truly guilty until you're proven innocent."
Trump also called Kavanaugh "outstanding" and spoke of the difficulties the judge's family has gone through. Kavanaugh's confirmation was voted out of committee last Friday, but has been held on the senate floor pending the outcome of his FBI background check. In a deal made be Sen. Jeff Flake, the investigation is limited in time to one week, and the White House gave the FBI permission on Monday to interview whomever they see as necessary.
Speaking to reporters, Trump said he didn't want to "interrupt" anything with regards to the investigation. He has continuously supported Kavanaugh since the allegations first came out, but has said he would find lying to be a line that no nominee should cross. Democrats have been criticizing Kavanaugh for his temperament and some on the left claim he lied under oath.
"I don't think you should lie to Congress and there are a lot of people over the past year who have lied to Congress," Trump told reporters. "For me, that would not be acceptable."
Short of that, Trump is all in on Kavanaugh — and his "young men in America" comment shows it.