Trump Says Ivanka Called Him "Daddy" & The Internet Is Like, Nope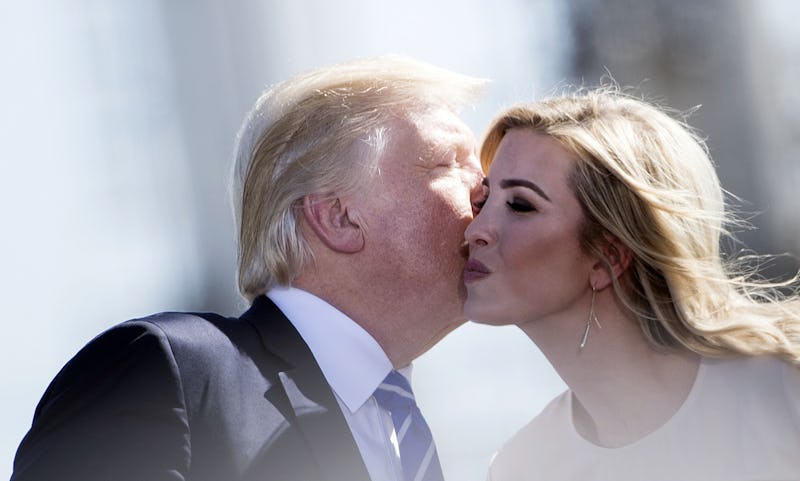 BRENDAN SMIALOWSKI/AFP/Getty Images
Most people are used to Donald Trump mentioning Ivanka Trump, his daughter and White House adviser, during speeches and rallies. But during an event in North Dakota on Wednesday, Trump mentioned a tidbit about his daughter that surprised everyone. Trump said Ivanka calls him "daddy," and the internet reacted, well, about how you'd expect. From surprise to disgust, the denizens of Twitter shared GIFs and quips to express their feelings on the statement.
Yashar Ali, a contributor to New York and The Huffington Post, shared a video clip of Trump narrating the tidbit to a laughing crowd in North Dakota. "[Ivanka] said, 'Dad, can I come with you?' Actually she said 'Daddy, can I go with you?' I like that," Trump told his audience. In the clip, a smiling Ivanka could be seen walking toward the podium on the stage.
"Look at Ivanka, come on up, honey," Trump said. "She's so good. She wanted to make the trip." Ivanka then addressed the crowd and said, "Hi, North Dakota. We love this state, so it's always a pleasure to be back here."
One plausible explanation for the lack of comfort internet users have experienced at Trump's "daddy" revelation is that some find it peculiar that a 35-year-old woman addresses her father by "daddy." Here are some reactions from Twitter users.
"Sanitize My Entire Brain"
Other Possible People
A Limerick
"Totally Normal"
Emoji-React
"Creepy"
All Caps
GIF-React
Another GIF
...And Another
"Can I Have A Pony?"
"Physically Ill"
"Puke"
One More GIF
Joker GIF
"Ew"
"Hurt"
"Ruin Your Day"
Not Eating Food Ever
"His 35-Year-Old Daughter"
This Kerry Washington GIF
"Make America Cringe Again"
"Grow Up"
"Seriously?"
"Gag, Gag, Gag"
If one thing is clear from the reactions to Trump's North Dakota tax reform event, it is that a large number of internet users don't exactly think Ivanka calling her father "daddy" is a perfectly normal occurrence. And it looks like the amount of cringe is continuing to grow.