Trump Explained Why He Isn't Going To Pick Ivanka To Be The UN Ambassador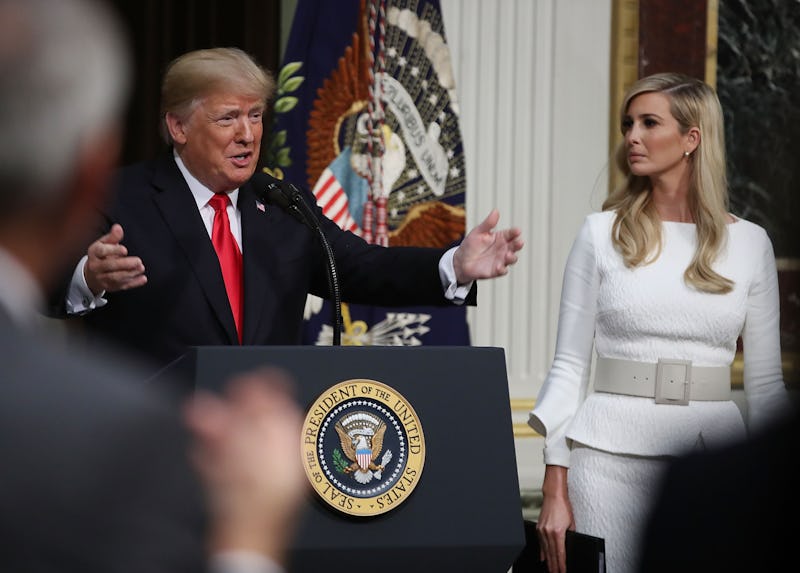 Mark Wilson/Getty Images News/Getty Images
When President Donald Trump's United Nations ambassador announced her resignation earlier this week, one name was quick to get floated as a potential replacement — Ivanka Trump. But don't expect the president's daughter to be moving into a new office any time soon. President Trump dismissed suggestions that Ivanka replace Nikki Haley as the new U.N. ambassador Friday, citing fears of nepotism allegations.
"So nice, everyone wants Ivanka Trump to be the new United Nations Ambassador," Trump tweeted Friday. "She would be incredible, but I can already hear the chants of Nepotism! We have great people that want the job."
This isn't the first time Trump has brushed aside suggestions that Ivanka could replace Haley. But don't misunderstand; it isn't because he doesn't think she'd do a great job. "I've heard how good would Ivanka be," Trump told reporters outside the White House earlier this week. "It's nothing to do with nepotism, but I want to tell you, the people that know, know that Ivanka would be dynamite. But I'd then be accused of nepotism if you can believe it."
The president went on to say he thought his daughter "would be incredible" as U.N. ambassador and that he wasn't sure there was "anyone more competent in the world." Still, the president remained firm, saying he wouldn't select Ivanka for the job out of a fear he'd be accused of nepotism.
Ivanka has also rebuffed suggestions that she could replace Haley as U.N. ambassador. "It is an honor to serve in the White House alongside so many great colleagues and I know that the President will nominate a formidable replacement for Ambassador Haley," she tweeted Tuesday. "That replacement will not be me."
Another woman whose name had also been floated as a potential replacement also recently pulled her hat from the ring. Goldman Sachs executive and Trump's former Deputy National Security Adviser Dina Powell reportedly withdrew herself from consideration Thursday. According to Politico, Powell, who had been seen as the White House's top pick to replace the outgoing Haley, cited concerns over the amount of travel the post required and a desire to remain near her two young children.
But while two women have withdrawn themselves from consideration, the White House is reportedly urging Trump to name a woman to replace Haley in an effort to boost the president's support among female voters. The list of women reportedly being considered for the post includes Susan G. Komen Breast Cancer Foundation founder and former U.S. Ambassador to Hungary Nancy Brinker, former New Hampshire Sen. Kelly Ayotte, and current U.S. Ambassador to Canada Kelly Knight Craft, Politico has reported.
Haley announced her decision to resign as U.N. ambassador on Tuesday without elaborating on the reason for her departure. "It has been an honor of a lifetime," she said during an Oval Office meeting with President Trump. "You know, I said, I am such a lucky girl to have been able to lead the state that raised me and to serve a country I love so very much. It has really been a blessing, and I want to thank you for that."