Here's How Trump Said He Might "Change Things Around" In His Cabinet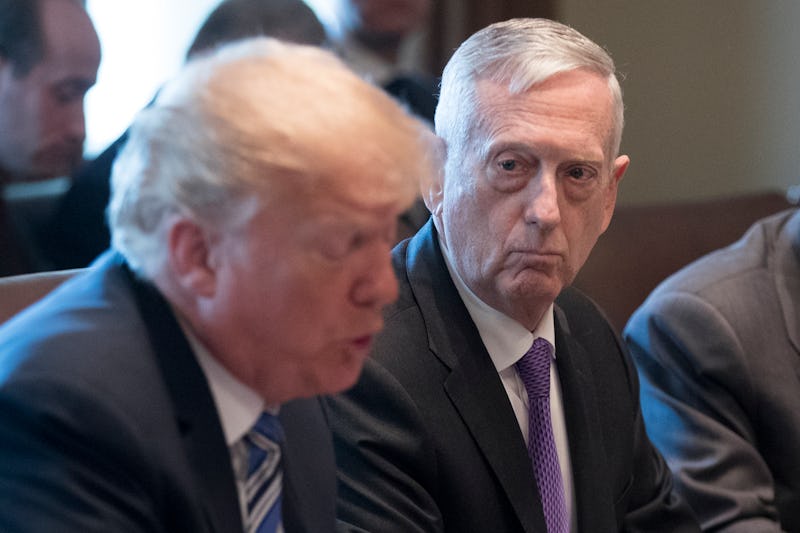 Pool/Getty Images News/Getty Images
In an interview with CBS's 60 Minutes, Donald Trump suggested Defense Secretary James Mattis may leave the cabinet, which would make him the latest departure in an administration with an unusually high turnover rate. While he refused to deny reports Mattis could be leaving, the president also signaled the potential for even more shake-ups within the administration.
CBS correspondent Lesley Stahl had asked specifically about Mattis and whether the former Marine Corps general would be on his way out of the administration soon. In late June, CNN reported tension surrounding the two men's relationship.
"I don't know. He hasn't told me that," Trump responded, adding that he thinks Mattis is "sort of a Democrat, if you want to know the truth." He also said:
I have a very good relationship with him. I had lunch with him two days ago. I have a very relationship with him. It could be that he is. ... Gen. Mattis is a good guy, we get along very well. He may leave. At some point, everybody leaves. Everybody. That's Washington.
Mattis' position was only brought up after Stahl asked for Trump to comment on reports alleging that "the White House is in chaos." Trump flatly denied them, insisting the reports are "fake news."
He said:
It's wrong. It's so false. It's fake news. Now, did— Out of hundreds and hundreds of people I could've not picked, I'm changing things around. And I'm entitled to. I have people now on standby that will be phenomenal, they'll come into the administration. They'll be phenomenal.
Stahl then attempted to clarify Trump's statement. "More people are going to go?" she asked.
"Yeah, other people will go, sure," Trump said.
Stahl seemed surprised by Trump's admission that more personnel may leave the West Wing. "But so many people? You have a kind of record on turnover. You're saying more?" Stahl asked.
"Look, I told you the story. I told you the story," Trump said. "I think I have a great cabinet. There are some people that I'm not happy with. I have some people I'm not thrilled with, and I have other people I'm beyond thrilled with."
In response to the preview clip published by CBS ahead of the full interview, Army Col. Robert Manning, a spokesman for the Pentagon, said Secretary Mattis is committed to his job. "Secretary Mattis is laser-focused on doing his job — ensuring the U.S. military remains the most lethal force on the planet," Manning said in a statement, according to CNN.
The most recently announced departure in Trump's administration is Nikki Haley, who is the U.S. ambassador to the United Nations and former governor of South Carolina. Haley said she'll leave by the end of the year, and she will be campaigning for Trump in 2020.
In late August, Trump also announced the departure of White House counsel Don McGahn on Twitter, according to The New York Times. "White House Counsel Don McGahn will be leaving his position in the fall, shortly after the confirmation (hopefully) of Judge Brett Kavanaugh to the United States Supreme Court," Trump tweeted. "I have worked with Don for a long time and truly appreciate his service!"