Trump Actually Called Undocumented Immigrants "Animals" & The Video Is Jaw-Dropping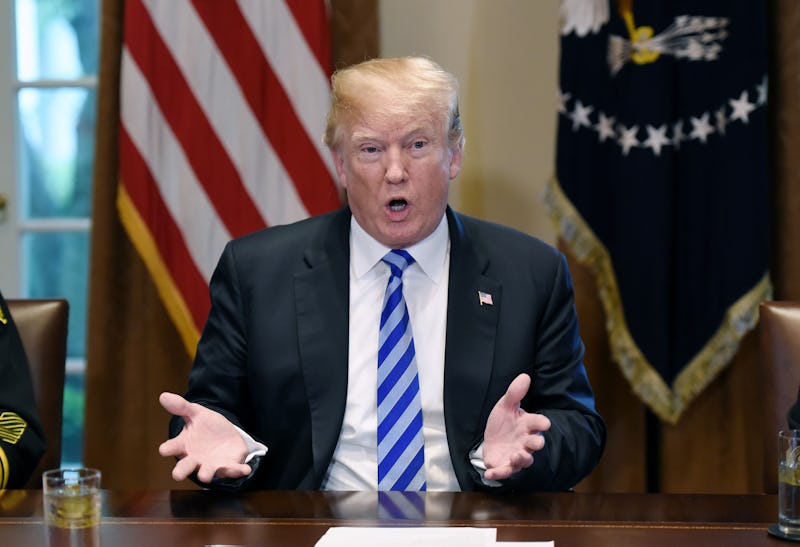 Pool/Getty Images News/Getty Images
On Wednesday, President Donald Trump made a remark during an immigration-related White House meeting that's drawn immediate criticism and condemnation from pro-immigration and anti-racism advocates, and one that's quickly set social media aflame. Namely, Trump said undocumented immigrants "aren't people, they're animals," in the process of speaking out against the law enforcement policies of so-called "sanctuary cities."
Trump was responding to a complaint from Fresno County sheriff Margaret Mims, who claimed that she was unable to report undocumented members of violent gangs to Immigration and Customs Enforcement (ICE) unless they met a "certain threshold." Mims called the situation a "disgrace," and it was plain from Trump's own hyper-inflammatory rhetoric that he felt the same way.
"We're taking people out of the country, you wouldn't believe how bad these people are. These aren't people, they're animals," Trump said. "And we're taking them out of the country at a level, at a rate that's never happened before. And because of the weak laws, they come in fast, we get 'em, release 'em, we get 'em again, we bring 'em out, it's crazy. The dumbest laws, as I've said before, the dumbest laws on immigration in the world. So, we're gonna take care of it."
The remark was seemingly meant to refer to undocumented immigrants who're members of violent gangs, but regardless of the intention, Trump's words have been denounced by some as dehumanizing and dangerous. For example, as The New York Daily News detailed, activist and DACA recipient Juan Escalante called Trump's words "shameful."
"When the President says 'animals' like that, he is speaking of an entire category of people he considers unworthy of the American dream," he told the paper. "He continues to undermine American values and it's shameful."
The Latino and immigrants' rights organization Voto Latino also chimed in on Twitter, calling Trump's derogatory language "sick."
"This is sick. Immigrants are not animals, @realdonaldtrump," the organization tweeted. "Immigrants are hardworking men and women who are seeking better futures for their children away from violence."
As Robert Costa of The Washington Post noted on Wednesday, this kind of language is nothing new for Trump. To the contrary, he's used the "animal" line since 2015, his first year as a presidential candidate.
It's not difficult to see why this kind of language is so controversial. A leader, in this case the president of the United States, has immense power to shape perceptions among the general public through how they talk about various issues. And in this case, the message Trump is sending is one that further stigmatizes undocumented immigrants, and intensifies anti-immigrant fervor.
Trump's statement about removing people from the country "at a rate that's never happened before" is actually not true, at least not to this point of his presidency. Total deportations were actually down in 2017, the first year of his presidency, although total arrests by ICE surged, reflecting a much more aggressive approach by the agency.
This is far from Trump's first massively controversial and widely condemned comment about immigrants. Back in January, he reportedly referred to countries like El Salvador, Haiti, and others throughout Africa as "sh*thole countries," and balked at the idea of immigrants from such countries receiving protections. The United Nations human rights office called Trump's remarks "shameful" and "racist" in response, although the Trump administration denied the remarks were made.
It remains to be seen if the White House will comment publicly about this controversy, although judging by the reaction of one of the GOP's foremost congressional leaders, it doesn't seem like the president's party has a problem with it. According to Bloomberg's Sahil Kapur, following Trump's remarks, GOP House Majority Leader Kevin McCarthy hailed him as a "new president that understands this problem,"