Trump Reportedly Rejected A White House Statement Honoring John McCain's Life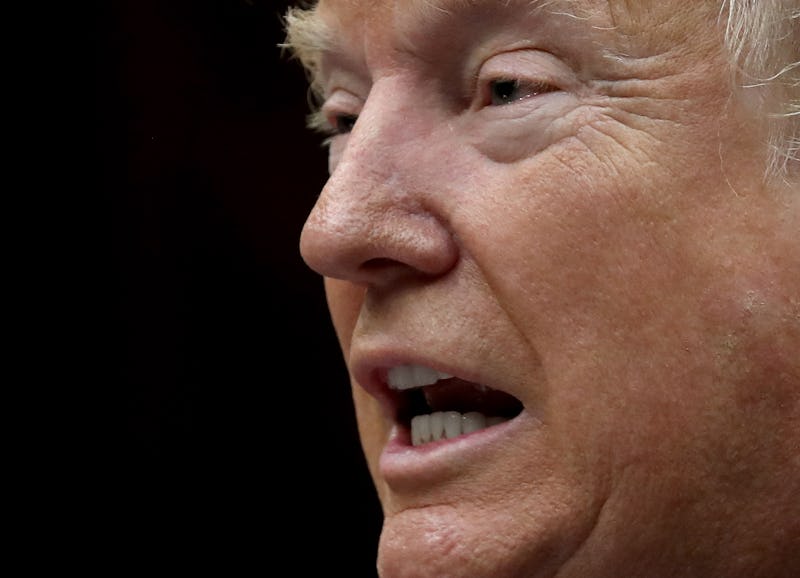 Win McNamee/Getty Images News/Getty Images
However rancorous two public figures may be in life, an unspoken truce is usually called when there is a death. But President Donald Trump is not one for decorum. On Sunday, the Washington Post reported that President Trump scrapped a White House statement on John McCain's contributions, opting instead for a short, dry tweet sharing his condolences following the senator's death. Bustle has reached out to the White House for a comment on this report.
According to The Washington Post, press secretary Sarah Huckabee Sanders, Chief of Staff John F. Kelly, and other aides encouraged the president to put out an official statement that would have celebrated McCain's military service and deemed him a "hero." That was axed when Trump reportedly told his staff that the statement paying tribute to the Vietnam War prisoner of war's life would not be used. Instead, after the news broke on Saturday, the president put out this cursory tweet:
My deepest sympathies and respect go out to the family of Senator John McCain. Our hearts and prayers are with you!
Trump's message avoided thanking McCain for his service or even addressing him directly, something that the first lady, interestingly enough, actually did in her tweet.
White House staff didn't follow the commander in chief's lead in avoiding praise, though; on Sunday, the secretary of state, defense secretary, White House press secretary, and many others had posted statements commending McCain's life of service. Vice President Mike Pence wrote on Twitter that he honored McCain's "lifetime of service to this nation in our military and in public life." After his lone tweet, President Trump stayed conspicuously silent and didn't give any speeches throughout the day, though flags were at half-staff to honor the late senator.
McCain died at 81 years old, after fighting a fast-growing form of brain cancer, called glioblastoma, for the past year. Despite the senator's diagnosis and weakening condition, the president still derided McCain at rallies, according to The Hill. Trump is also remembered for insulting McCain's time as a prisoner of war: "He's a war hero because he was captured," Trump had said in 2015. "I like people that weren't captured."
On Sunday, some elected officials criticized Trump, accusing him of overlooking the importance of the day's events in favor of self-congratulation.
Other high-profile figures had choice words for the president. One prominent Hollywood director said Trump's rejection of the White House statement reaffirmed his status as "the most morally bankrupt person ever to occupy the Oval Office."
Another journalism icon simply called Trump a "petty, petty man."
Though the current president of McCain's own country would not offer any kind words upon his death, former Presidents George W. Bush and Barack Obama both did. Leaders from other countries offered some warm thoughts as well. The prime minister of Canada called McCain a "patriot" and "an inspiration."
In Britain, Prime Minister Theresa praised the senator's selflessness.
And in France, President Emmanuel Macron called him a "hero."
McCain and Trump had a combative relationship, and even in death, it seems the president wants to keep it that way, though it's unclear to what end — the relationship no longer exists.