Trump Signs A Bill Stripping Title X Funds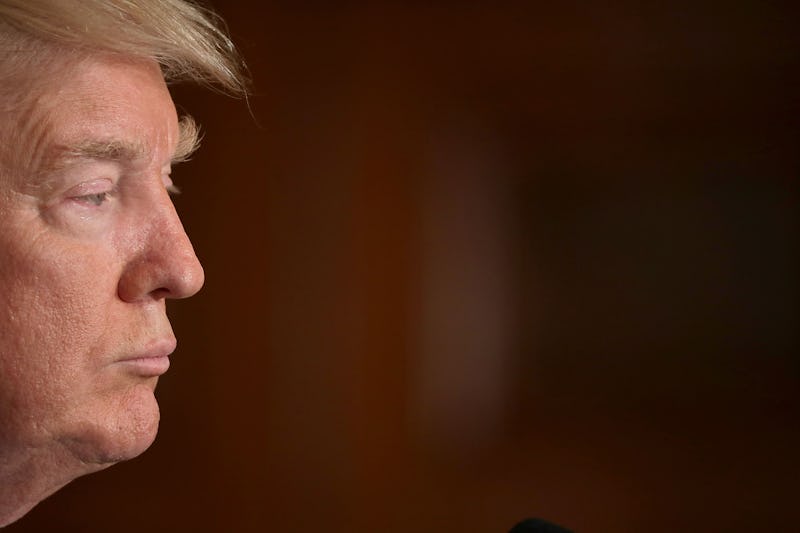 Chip Somodevilla/Getty Images News/Getty Images
Republicans have scored a major success in their ongoing fight to defund Planned Parenthood. Although they haven't managed to do it directly, Trump just signed a bill stripping Title X funds from the women who need them the most. Title X provides funding for family planning, largely to women living at or below the poverty line. It helps to fund about 4,000 Planned Parenthood clinics across the nation, and these clinics serve about one-third of all those who benefit from Title X funding.
In December, Obama signed a bill stating that states could not block a health care center from receiving Title X funding for political reasons — i.e., if the health care center also provided abortions. He did this in the full knowledge that Trump could come straight along and undo it — which is exactly what has now happened. Republican supporters of the bill that Trump has just signed argue that states now have more freedom to decide which centers receive Title X funding. With that freedom, of course, comes the ability to deny abortion providers like Planned Parenthood from receiving any of that funding — even if they have proven that their quality of care merits receiving it.
Should states indeed decide to redistribute that money, then some of the country's most vulnerable citizens could lose access to basic health care that has nothing to do with abortions. Title X pays for family planning and preventative health care services like Pap tests, breast exams, and birth control. If a Planned Parenthood clinic were to close because it lost its Title X funding, there would not necessarily be another clinic nearby to take its place. That means, of course, that the low-income and often minority women relying on those services would then lose them.
What the anti-Planned Parenthood crusaders in the Republican Party ignore is that Title X saves the government a lot of money by providing preventative care. It also prevents about 1 million unintended pregnancies a year by providing birth control — which, of course, means that fewer women need abortions. But besides that, it's a key part of health care for the women who need it. Allowing states to block Planned Parenthood clinic from receiving it could block women from getting those Pap tests and breast exams that, if they allow early cancer detection, save those women's lives.
This bill won't make Planned Parenthood disappear — but it could make it more difficult for millions of low-income Americans to get high quality health care. If Republicans want to claim that they're not conducting a war on women, this is not the way to do it.