Trump's New Executive Order Strips Away More Women's Rights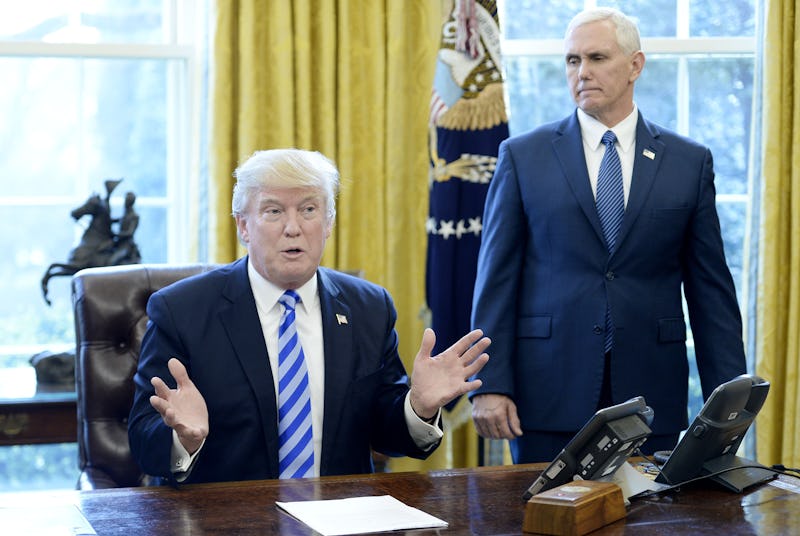 Pool/Getty Images News/Getty Images
On Thursday, President Trump hosted a group of conservative politicians and religious leaders for the annual National Day of Prayer. As anticipated, Trump signed a long-awaited religious liberty executive order easing restrictions on political activity by religious groups, allowing private companies to deny their employees health care coverage.
A memo issued to the press on Wednesday evening indicated that Trump's religious freedom executive order essentially takes an anti-women stance to "protect and vigorously promote" religious liberty. It also takes direct aim at the Johnson Amendment, which bars church leaders from promoting political candidates, as well as challenges reproductive coverage offered under Obamacare. Legal challenges and public backlash will likely follow in the wake of the signing.
In February, The Nation published a prospective copy of Trump's religious freedom executive order, along with analysis detailing why much of its language would almost certainly be challenged in court. For starters, the scope of the proposal was staggering, as it "seeks to create wholesale exemptions for people and organizations who claim religious or moral objections to same-sex marriage, premarital sex, abortion, and trans identity." This protection extends to a wide breadth of situations, including "when providing social services, education, or healthcare; earning a living, seeking a job, or employing others; receiving government grants or contracts; or otherwise participating in the marketplace, the public square, or interfacing with Federal, State or local governments."
As civil rights organizations quickly pointed out, Trump's newest executive order will enable people to wield their religious beliefs as a tool to discriminate against others.
According to The Nation's copy of the draft, the specified value set — rejecting same-sex marriage, premarital sex, abortion, and trans identity — is closely linked with conservative Christian views. As Sarah Posner points out in The Nation, this elevation of one religious point of view might contradict the Establishment Clause of the First Amendment of the Constitution. On top of that, exemptions for individuals and corporations based on religious beliefs could violate existing federal laws. And the prioritizing of one ideological outlook over others — in this case, one closely aligned with many Evangelical Christians — might not be protected at all under the current Religious Freedom Restoration Act (RFRA), according to Ira Lupu of George Washington University Law School.
The American Civil Liberties Union (ACLU) released a statement ahead of Thursday, signaling their plans for this executive order:
The ACLU fights every day to defend religious freedom, but religious freedom does not mean the right to discriminate against or harm others. If President Trump signs an executive order that attempts to provide a license to discriminate against women or LGBT people, we will see him in court.
Considering the dubious legality of this executive order on religious freedom, the ACLU probably won't be the only ones taking their case against Trump before a judge.
More to come...