Trump's Latest John McCain Diss Came At A Moment You'd Least Expect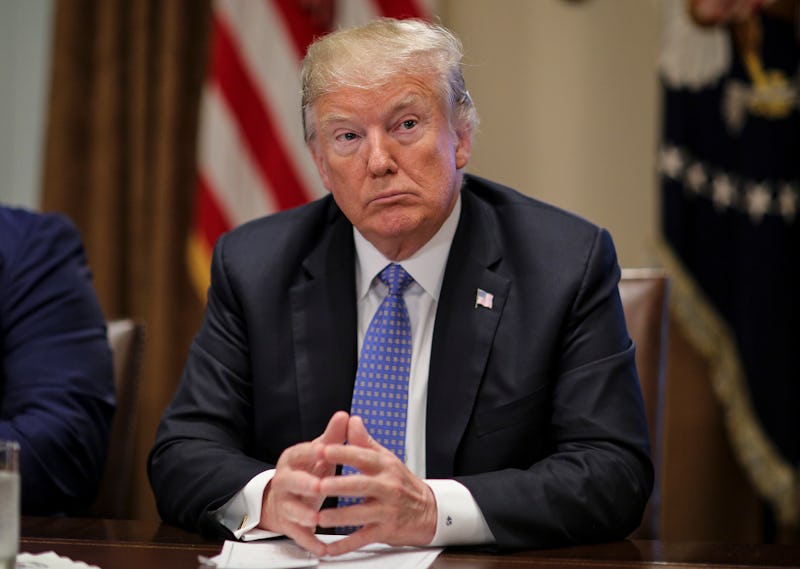 Pool/Getty Images News/Getty Images
Sometimes, it's not what the president says, but what he doesn't say that actually catches attention. This happened on Monday, when President Donald Trump signed John McCain's defense act and didn't thank the sitting senator at all, even though the bill was named after him.
"We would not be here for today's signing ceremony without the dedicated efforts without the dedicated members of Congress who worked so hard to pass the National Defense Authorization Act," Trump said during his speech, during which he praised military members, according to video footage and transcripts provided by CNN. The bill's official name is the John S. McCain National Defense Authorization Act for Fiscal Year 2019, and it is worth $717 billion.
McCain is the current chairman of the Senate Committee on Armed Services, and a veteran himself. Back in 2015, Trump said that McCain was not a war hero because he was captured during his service.
"He's not a war hero," Trump said of McCain during a Q&A at the Iowa Family Leadership Summit. "He's a war hero because he was captured. I like people that weren't captured."
Though Trump quickly dialed back his comments, remarking that McCain was, in fact, a hero because he was captured, his initial statements still sparked outrage among both Democrats and Republicans. Critics were quick to point out that Trump received five different deferments during the Vietnam War.
Though Trump didn't mention McCain during the bill's signing, he did allude to the senator later in the day. During a speech at a fundraising event, Trump reportedly lamented McCain's late night vote against a proposal to repeal the Affordable Care Act, according to The Hill.
"ObamaCare, we got rid of the individual mandate, which is the most unpopular aspect," Trump said. "I would've gotten rid of everything, but as you know, one of our wonderful senators said 'thumbs down' at 2 o'clock in the morning."
McCain, for his part, expressed gratitude that the bill was passed, and that it bore his name.
"I am particularly humbled that my colleagues chose to designate legislation of such importance in my name," the senator said in a statement. "Serving on the Senate Armed Services Committee has been an incredibly meaningful experience since my first days on Capitol Hill."
He continued:
And in the committee's work, I have found high purpose in the service of a cause greater than self—the cause of the women and men in uniform who defend America and all she stands for. That is why it has been one of the greatest honors of my tenure in the U.S. Senate to serve as its chairman.
Monday's events marked the latest episode in what has become a historically tense relationship between the senator and now-president of the United States. McCain has developed a reputation for being one of Trump's most outspoken Republican critics, and Trump, in turn, has a seasoned reputation for calling out those who disagree with him. For now, neither of those things seems set to change.