Trump Signs Order Banning Transgender Recruitment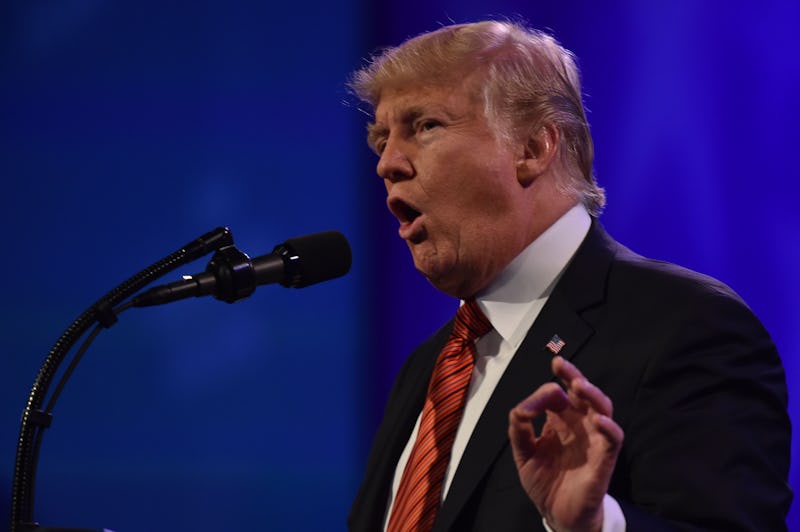 NICHOLAS KAMM/AFP/Getty Images
On Friday afternoon, President Trump signed an order banning transgender military recruitment and ordering the Department of Defense not to provide medical treatment to transgender service members who are already enlisted, CNN reports. The memorandum in question effectively bans transgender Americans from enlisting in the military, although it's possible that transgender service members who are already serving will be allowed to continue doing so.
In addition to the military itself, Trump's order will also apply to the Department of Homeland Security and the Coast Guard, the Times reports.
Although the memo in question will ban transgender Americans from enlisting in the military, it's unclear to what extent it will affect transgender folks who are already enlisted. The memo directs Defense Secretary James Mattis to come up with a plan for dealing with transgender service members, and implement it in six months' time.
Trump first announced the idea of banning transgender persons from the military on Twitter in late July. The announcement reportedly took many officials by surprise — including Mattis, who reportedly only knew that the decision had been made one day prior. At the time, Trump offered no details regarding the plan, writing only:
After consultation with my Generals and military experts, please be advised that the United States Government will not accept or allow Transgender individuals to serve in any capacity in the U.S. Military. Our military must be focused on decisive and overwhelming victory and cannot be burdened with the tremendous medical costs and disruption that transgender in the military would entail. Thank you
Shortly after Trump's announcement, the Pentagon said that it had received no guidance from the White House on how to implement the change policy, and wouldn't be making any changes until such guidance was received.
The order Trump signed on Friday reverses a decision President Obama made in July 2016, when his administration announced that transgender Americans would be allowed to serve openly in the armed forces and receive medical treatment. Under Trump's directive, transgender troops will no longer receive medical treatment, although it's again an open question whether transgender Americans who are already enlisted will be able to continue serving.
Although Trump asserted that "tremendous medical costs" would be incurred if transgender service members were given treatment by the military, a 2016 study by the Rand Corporation found that the annual cost of providing medical treatment to transgender troops would be between $2.4 million and $8.4 million annually. As the Washington Post notes, that's around one-fifth the amount the military already spends providing Viagra to service members.