Trump Officially Condemns White Supremacists A Month After Charlottesville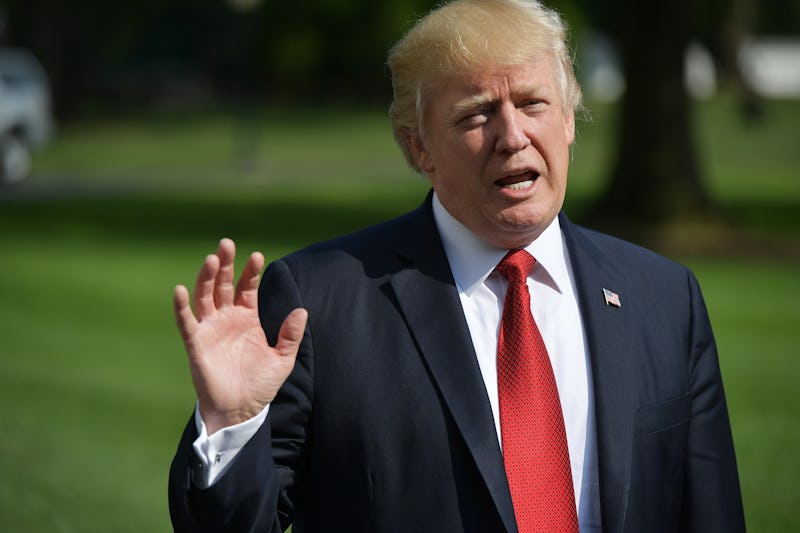 MANDEL NGAN/AFP/Getty Images
In the wake of the violent Unite the Right rally in Charlottesville, President Trump signed a resolution denouncing white supremacists, neo-Nazis, and the Ku Klux Klan on Thursday. The joint resolution also urges Trump to "use all available resources to address the threats posed by those groups."
Virginia Sens. Mark Warner and Tim Kaine introduced the measure with bipartisan support to the House, and Congress passed the measure after unanimous House approval on Tuesday, Sept. 12. Trump's signing follows the criticism he received for not calling out hate groups strongly enough and for blaming "both sides" for what happened at Charlottesville.
The resolution requests the Trump administration recognize the death of 32-year-old Heather Heyer, who died last month at the Charlottesville rally when a man plowed his car into a group of counter-protesters. The measure labels the violence in Charlottesville a domestic terrorist attack and urges Attorney General Jeff Sessions to work with the Department of Homeland Security to thoroughly investigate whether white supremacists groups broke any criminal laws in Charlottesville.
The Charlottesville demonstration on Saturday, Aug. 12, was organized by white supremacists protesting the removal of the statue of Gen. Robert E. Lee, a Confederate icon. Tension was high the night before the protest took place, when white supremacists stormed the University of Virginia campus carrying burning torches and chanting "white lives matter," among other slogans.
The Charlottesville rally spiraled into chaos when clashes erupted between the protesters and counter-protesters. At least one white supremacist protester fired a gun, and in addition to Heyer's death, the car attack injured around 19 people. The tragedy garnered further controversy when rally organizer Jason Kessler tweeted "Heather Heyer was a fat, disgusting Communist." Kessler later deleted the tweet and apologized, following the intense backlash.
Protesters, counter-protesters, and the American Civil Liberties Union — which supported Kessler's permit request on the grounds of free speech — argued that local police failed to act in time to maintain law and order. Virginia Gov. Terry McAuliffe defended law enforcement's work and claimed that militia groups in Charlottesville had better equipment than Virginia state police. The ACLU has since changed its policy and will not represent groups that insist on carrying firearms.
In response to the Charlottesville event, Trump condemned the hateful actions, but did not hold any hate groups accountable. He later called out white supremacy by saying "racism is evil" before backtracking to blame "both sides" for the Charlottesville violence and claiming there were "very fine people on both sides." The opposing sides saw neo-Confederates and white nationalists on one side, anti-racists and anti-fascists on the other. By this point, Trump faced public outcry and harsh pushback from members of both political parties, including his own cabinet.
Shortly after the Virginia clash, anti-racist protesters toppled a Confederate statue in North Carolina. The right-wing Boston Free Speech rally also took place later that month. It was anticipated to be a major rally, but drew only 50 or so attendees who were met by 30,000 to 40,000 counter-protesters. Police banned weapons at the event. The next demonstration, the pro-Trump Mother of All Rallies, is scheduled to take place on Saturday, Sept. 16, in Washington, D.C.
The signing of the anti-racism resolution signals Trump's attempt to make a stronger statement against hate groups. However, White House Press Secretary Sarah Sanders said that Trump continues to stand by his original "both sides" response:
The president was clear in his initial statement that he condemned hatred, bigotry, racism of all forms. He continues to stick to that message. He's been very consistent in that fact.
Trump signing the resolution is in line with the mixed messages he's sending about his stance on white supremacists. But for those outraged by his refusal to swiftly and unequivocally condemn racism in America, it remains too little too late.