Hope Hicks' Maybe Boyfriend Just Resigned From The White House After Abuse Allegations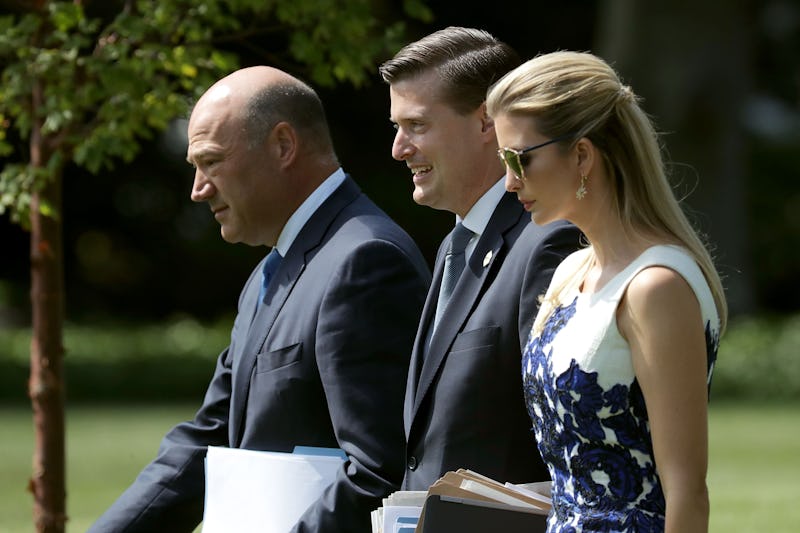 Chip Somodevilla/Getty Images News/Getty Images
Already plagued by sexual harassment and assault allegations that President Trump strongly denies, the White House confirmed Wednesday that one of his top aides has stepped down after being accused of verbally and physically abusing two ex-wives. The Daily Mail reported the spousal abuse allegations against Trump aide Rob Porter earlier this week, along with a rumor that he's dating loyal Trump staffer Hope Hicks. Porter, who is Trump's staff secretary, called the allegations against him "simply false" and "vile" in a statement.
The Daily Mail had published allegations from both of Porter's ex-wives detailing how he was verbally and physically abusive. Afterward, Porter released a statement via the White House:
These outrageous allegations are simply false. I have been transparent and truthful about these vile claims, but I will not further engage publicly with a coordinated smear campaign.
The tabloid also reported that Porter is dating Hicks, the White House communications director; sources told CNN the same. Porter and Hicks themselves, however, have not confirmed a romantic relationship.
Porter stepped down despite objections from other White House officials, according to CNN, but his resignation was not effective immediately. In the statement, read out to reporters by White House press secretary Sarah Sanders, Porter said that he "will seek to ensure a smooth transition when I leave the White House," adding that he has "always put duty to country first" and is "deeply grateful" for the opportunity to serve under Trump.
Porter joined the administration in early 2017 and was given more responsibilities once John Kelly took over as Trump's chief of staff in July.
The Daily Mail reports the FBI was aware of Porter's allegedly abusive past while he served in the White House. The tabloid claimed that Porter was denied a security clearance because of that alleged "dark past"; Sanders said Wednesday that the White House would not comment on staffers' security clearances.
Porter's second wife, Jennifer Willoughby, reportedly requested a restraining order against Porter in 2010 after he punched the glass on their front door. The Daily Mail published photos of an emergency protection order filed by the state of Virginia; any police reports filed against Porter would have been public record when he was hired to work in the Trump administration.
Willoughby also wrote a blog post about her allegedly abusive marriage in April 2017, writing:
Abuse is indifferent to education level, socio-economic status, race, age, or gender. And no one can ever know the dynamics of another's relationship.
The post didn't name Porter; Willoughby told the Daily Mail that he demanded she delete it.
Despite the allegations, Porter maintained support from White House officials. According to Axios, Kelly tried to convince Porter "to stay and fight" the spousal abuse allegations.
"Rob Porter is a man of true integrity and honor and I can't say enough good things about him," Kelly said in a statement. "He is a friend, a confidante and a trusted professional. I am proud to serve alongside him."
Sanders also said in her statement to the press Wednesday that Kelly and President Trump had "full confidence and trust in his abilities and his performance."
Sen. Orrin Hatch (R-Utah), Porter's former boss, also announced his support for the White House aide amid the allegations. In a statement to the Daily Mail, Hatch called the accusations against Porter a "vile attack on such a decent man." In a second statement released after photos of Porter's bruised ex-wife were published, however, Hatch said, "I am heartbroken by today's allegations."
I am heartbroken by today's allegations. In every interaction I've had with Rob, he has been courteous, professional, and respectful. My staff loved him and he was a trusted advisor. I do not know the details of Rob's personal life. Domestic violence in any form is abhorrent and unacceptable. I am praying for Rob and those involved.
It's unclear how much longer Porter will work in the White House.