Trump Is Sad He Can't Call Ivanka Or Any Other Woman "Beautiful" After #MeToo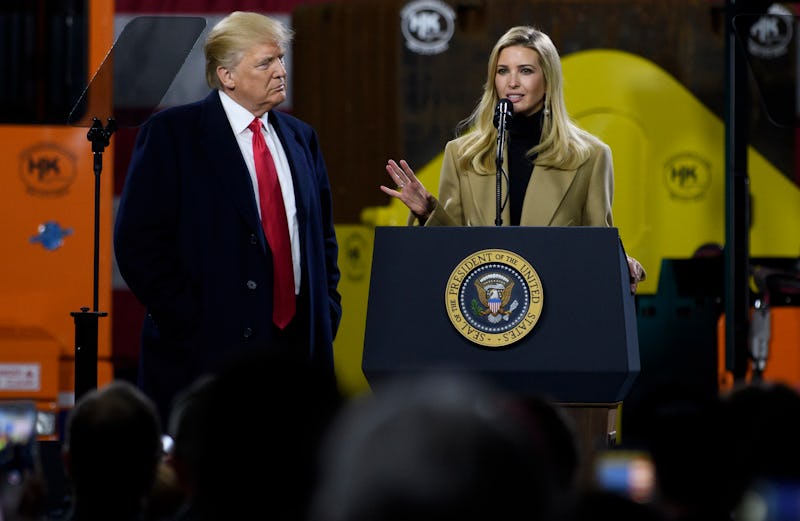 Jeff Swensen/Getty Images News/Getty Images
The president is intent on hitting on the important issues in the final 24 hours before the critical midterm elections. While introducing his daughter Ivanka Trump at a campaign rally on Monday, President Donald Trump says he'll never call a woman "beautiful" again.
"Now I know they'll say this is nepotism, but the truth is she's a very, very — you're not allowed to use the word 'beautiful' anymore when you talk about women. You're not allowed. No, no. It's politically incorrect," Trump said at the rally in Cleveland, according to video of the event.
Then the Ohio crowd started to boo. "No, no," Trump said as the crowd continued to boo. Then Trump held up his pointer finger as if asking the crowd to wait a second, before adding that, "I will never call a woman beautiful again."
He also attempted to make the audience participate in giving up using the word beautiful. "Every man in here raise your hand," Trump said. "You'll never ever say your wife, your girlfriend, anybody is beautiful, right?"
Very few men visible in the crowd behind him raised their hands, but it's possible others in the crowd did earnestly raise their hands to make this pledge against using the adjective "beautiful."
And then he finally brought it back to the original topic: introducing his daughter Ivanka without calling her "beautiful."
"I'm not allowed to say it. Because it's my daughter Ivanka. But she's really smart, and she's here!" Trump said. "Should I bring her up? Come on! Ivanka! Come up!"
"Wow. Hi Ohio. That was some introduction," Ivanka said to the crowd with some laughter.
Ivanka then gave a pretty standard stump speech for a Trump surrogate. Her speech heavily praised President Trump. "It is always, always, always an honor to be here and I am so proud of what we're all here fighting for," Ivanka told the crowd, according to Newsweek. "This president, my father, promised that he would fight to give you all a voice."
Ivanka praised Trump's fight for the "forgotten men and women" of the U.S., but didn't mention which policies she was describing. "He promised that he would fight for the forgotten men and women of America, and he is fighting hard. I see it every single day and the fight is paying off," she said.
Despite Ivanka's classic Trump-era stump speech, it was Trump's introduction of his daughter that made headlines. Trump's fixation on the appropriateness of the word "beautiful" to describe women comes nearly a year after the public reckoning of #MeToo.
In March, a survey by Vox and Morning Consult found that younger and older women experience sexual harassment at work at comparable rates. What differed was their rates of reporting. Fifty-three percent of older women surveyed never reported the harassment while only 44 percent of younger women decided not to report.
There's obviously nothing inherently wrong with the word "beautiful," but there are definitely appropriate and inappropriate times to use it as a descriptor of people. Perhaps Trump's comment mischaracterizing the goal of the movement could have the effect of making some people realize that it's more likely to be an inappropriate word choice in a workplace.