Trump's Supporters Are Threatening To Lynch Al Green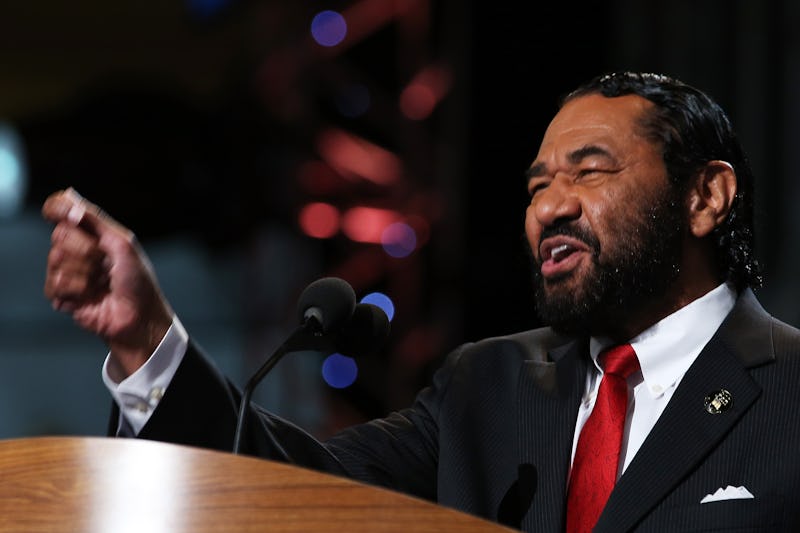 Chip Somodevilla/Getty Images News/Getty Images
Several of Donald Trump's most avid supporters had a thoroughly unsurprising reaction to a legislator's call for Trump's impeachment — racism. Last Wednesday, Rep. Al Green of Texas became the first member of Congress to officially call for the impeachment of President Trump. In a town hall on Saturday, Green revealed that he'd been receiving lynching threats from the president's supporters in response to his pleas to Congress.
Green argued that the president's recent actions and statements are enough to pursue obstruction of justice charges, citing Trump's admission that James Comey's role in the FBI's Trump-Russia investigation was a factor he considered when making the decision to fire the former FBI director, as well as a threatening tweet Trump published attempting to intimidate Comey into silence regarding details of his discussions with the president.
The Texas legislator began the Saturday event at the Fountain Life Center in Houston by playing multiple voicemails filled with racial slurs and threats of violence that he'd received from angry Trump voters. He has since uploaded three such voicemails to his official YouTube channel. The first recording he played featured a man saying, "Hey, Al Green, I've got an impeachment for ya — it's gonna be yours. Actually we're gonna give you a short trial before we hang your n*gger a*s."
The second message also including an explicit threat to lynch Green, as well as racial attacks against former President Obama:
"You ain't gonna impeach nobody, you f*cking n*gger. Try it, and we'll rinse out you f*cking n*ggers — you'll be hanging from a tree. I didn't see anybody calling for the impeachment of your n*gger Obama when he was born in Kenya, he's not even an American. So f*ck you, n*gger."
For the record, numerous Republican legislators called for Obama's impeachment during his years in the White House. The Obama-was-born-in-Kenya theory has also been repeatedly debunked for multiple reasons.
Despite being endorsed by groups like the KKK and the American Nazi Party, the regular presence of white supremacists at his rallies, the frequent use of Nazi and white supremacist symbols among his supporters, and the rise of hate crimes — committed by people who specifically reference his name — against marginalized groups since Election Day, President Trump insists his voters are not racist. He has even claimed that violent incidents at his rallies did not involve real supporters of his, but rather agitators who were paid by the Clinton campaign. "One of the big issues that came up last night was the fact that the Clinton campaign has paid people to disrupt, violently, our rallies, and to incite absolute total bedlam," he said last October.
In February, he responded to a question about the large number of Trump-inspired anti-Semitic crimes following his election victory by once again pointing the finger at his detractors, suggesting they go to such lengths to make him look bad. "Some of it's written by our opponents," he said. "You don't think anybody would do a thing like that? Some of the signs you'll see are not put up by the people that love or like Donald Trump. They're put up by the other side. And you think it's, like, playing it straight? No. But you have some of those signs and some of that anger is caused by the other side."
After he played the voicemails, Rep. Green made it clear that he would not be intimidated by these attacks. "Friends, I want to assure you that no amounts of threats or intimidation will stop what I have started, I promise you," he said. "We are going to continue with this. We are gonna move forward, we will not turn around." And that's the best way to respond to the likes of those who sent him those messages.