Trump Tells UCLA Students Released From China "HAVE A GREAT LIFE" & Twitter Can't Deal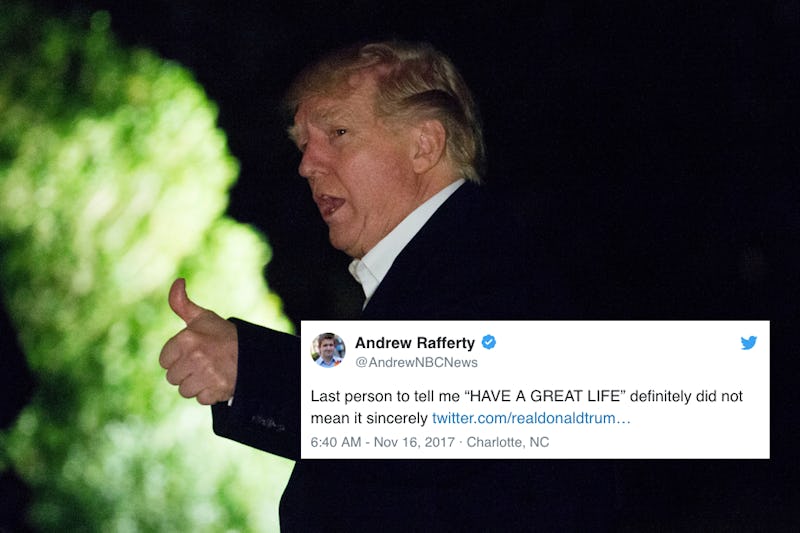 Pool/Getty Images News/Getty Images
Three UCLA basketball players arrested in China on shoplifting charges were allowed to return home to the U.S. on Tuesday, and President Trump wanted at least some of the credit. Thursday morning, Trump tweeted "you're welcome" at the men, warning them about the "many pitfalls" of life and reminding them that the president of China did them a solid. But, as is bound to happen on Twitter, people had a field day after Trump tweeted "HAVE A GREAT LIFE" at the UCLA players.
Trump reportedly appealed to Chinese President Xi Jinping during his Asia trip to help the players leave the country after they were released on bail and forced to surrender their passports. Once back in the states, a press conference was scheduled at UCLA, but before it began, Trump asked on Twitter: "Do you think the three UCLA Basketball Players will say thank you President Trump? They were headed for 10 years in jail!"
A few hours later, all three thanked Trump for his assistance, but the president still had words for them the following day. "To the three UCLA basketball players I say: You're welcome, go out and give a big Thank You to President Xi Jinping of China who made your release possible and, HAVE A GREAT LIFE!" he said. "Be careful, there are many pitfalls on the long and winding road of life!"
Naturally, Twitter had some feelings on the beauty of the all caps and what "have a great life" really says.
Some people wanted to start screaming the phrase online. Others pointed out that when someone tells you to "have a great life," they usually don't mean it. The words themselves are positive, but the phrase doesn't always send a cheery message.
For example, has an ex ever told you to "have a great life?"
The UCLA freshmen on the receiving end of Trump's confusing message — LiAngelo Ball, Cody Riley, and Jalen Hall — admitted to stealing while the team was abroad to play an exhibition game, but didn't specify what they were caught shoplifting. (However, according to multiple reports, it was Louis Vuitton sunglasses.) They were initially arrested Nov. 8, forcing the three players to miss the game they traveled across the world for.
"An awful lot of American kids don't realize that the kinds of things that in United States society we tolerate with a slap on the wrist, a lot of countries they take very seriously," White House chief of staff John Kelly told reporters Tuesday. "Our president said to Xi, 'Do you know anything about these knuckleheads that got caught allegedly stealing?'"
Ball, Riley, and Hall were suspended from the basketball team indefinitely. UCLA Coach Steve Alford said they won't participate in team practices or workouts, travel with the team, or dress for homes games while the school carries out its disciplinary process.
"These men are going to have to prove, through their words and actions, that this isn't who they are, and that they will not let their identity be defined by this incident," Alford said at the Wednesday press conference. "They are going to have to regain the trust of this athletic department, of this university, and because this was such a high-profile international matter, that of the general public."
He added: "My expectation is they will work hard to demonstrate why they deserve to be part of this program."
The first step toward regaining that trust was to apologize and thank the president. "I'd like to start off by saying sorry for stealing from the stores in China," Ball said at the same press conference. "I didn't exercise my best judgment, and I was wrong for that."