Trump Thinks There Was Nothing Wrong With The Way He Chose To Honor John McCain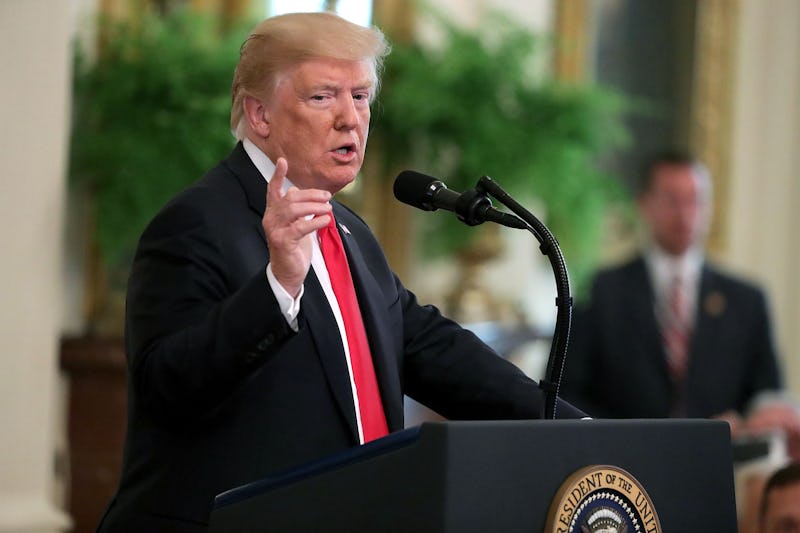 Chip Somodevilla/Getty Images News/Getty Images
In the days following Arizona Sen. John McCain's death, Donald Trump faced intense criticism for his initially brief and muted statement and his decision to prematurely return the White House flag to its full height. Despite the backlash, however, Trump is defending his response to McCain's death, insisting to Bloomberg News that he has "done everything that they requested."
It took Trump until Monday — two days after McCain's death and only after widespread backlash — to release a longer statement honoring the senator and order the flags to once again be lowered to half-staff. Although federal law only requires flags to be flown at half-staff for two days after the deaths of Congressional officials, presidents often sign proclamations extending this honor until officials are buried; Trump only did this after many people — including prominent veterans groups — pressured him to do so.
Moreover, Trump refused to answer questions about McCain in the Oval Office on Monday, and would not comment on his legacy. However, when Bloomberg News asked Trump if he thought he had missed an opportunity to unite the country following McCain's death, he argued otherwise.
"No, I don't think I did at all," Trump told Bloomberg News during a Thursday interview in the Oval Office.
McCain and Trump disagreed on a number of issues, ranging from the repeal of Obamacare to what McCain called Trump's "crackpot" foreign policy. Their feud was not recent, either; back in 2015, Trump claimed that McCain was "not a war hero" because he was captured. And even after McCain publicly revealed that he had brain cancer, Trump did not relent in his criticism of the Arizona senator. The president was particularly frustrated that McCain cast the deciding vote to save Obamacare last summer as Republicans attempted to repeal it.
"We had our disagreements and they were very strong disagreements," Trump told Bloomberg News. "I disagreed with many of the things that I assume he believed in."
Vox suggested that these differences seem to have prompted Trump to continue his feud with McCain even after the senator's death, perhaps because McCain reportedly did not want the president at his funeral. Instead, McCain invited former Presidents Barack Obama and George W. Bush to deliver eulogies at the service. Indeed, Trump — who once described Obama as "perhaps the worst president in the history of the United States" — refused to tell Bloomberg News whether he thought McCain would have been a better president than Obama.
"I don't want to comment on it," Trump said, as White House Press Secretary Sarah Huckabee Sanders reportedly stared at him. "I have a very strong opinion, all right."
Trump then joked that Sanders was "having a nervous breakdown" over his refusal to answer the question, and suggested that he would provide the answer at a later date.
"I respect his service to the country," Trump finally said.
While Trump has been criticized for his apparent reluctance to honor McCain, Sanders has described McCain as "an American hero" and a "great American" since his death, and has reportedly had multiple discussions with Trump about how to best honor the late senator. According to The Wall Street Journal, Sanders was also primarily responsible for Trump's decision to lower the flag back to half-staff.
McCain, who died on Saturday at 81 years old, will be buried on Sunday in the U.S. Naval Academy Cemetery.