Trump Awkwardly Complimented An Officer's Family During A Tribute To Fallen Police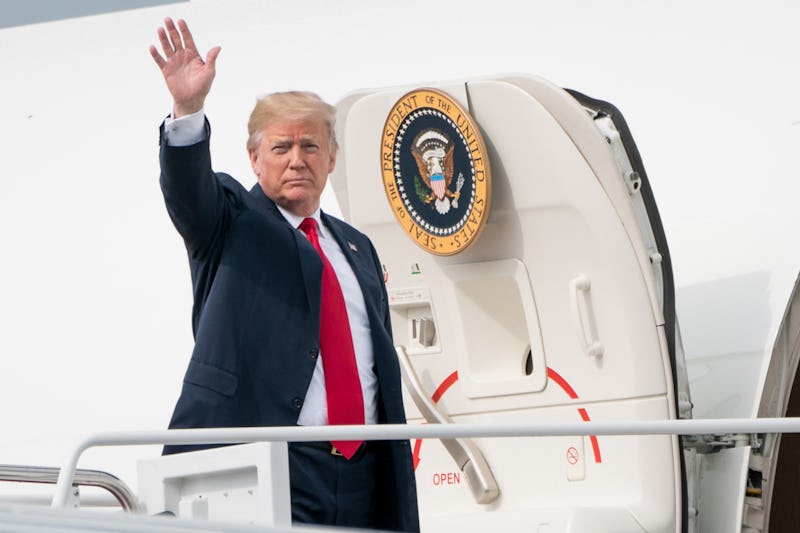 Pool/Getty Images News/Getty Images
During the 37th Annual National Peace Officers' Memorial on Tuesday, Donald Trump paid tribute to fallen law enforcement officers and those they had left behind. He pledged the country's support to families who had lost their loved ones, and lauded the officers' "immortal legacy." However, Trump also delivered an awkward compliment to one particular family — that of Miosotis Familia, a police officer and mother of three who was killed in July 2017.
"Your mom's legacy will never, ever die," Trump told Familia's family, whom he had invited to join him on stage. "You have good genes. Right? Good genes. The best genes I've ever seen."
As he was speaking, Trump held on tightly to the hand of a woman standing behind him — Adrianna Valoy, Familia's mother. Before making the comment about the family's genetics — which sparked some scattered laughter from the people in attendance — Trump joked that he wouldn't reveal Valoy's age to the crowd.
"So I promised that I wouldn't tell you that she's 90 years old, but, you know what, she is really something, right?" Trump said, before turning to Valoy. "You look like 55 maybe, 55. Boy, I'll tell you what. You got up those stairs better than I did."
In addition to inviting Familia's family onstage, Trump also asked Officer Maher — Familia's partner on the night that she was killed — to say a few words about her. Maher described both Familia and her family as "incredible." According to Maher, Familia had been injured not long before her death, but nonetheless volunteered to come back and patrol in the Bronx, where she was shot in the head by a gunman while sitting in a parked police vehicle.
"She may have been lost that night, but she saved a lot of lives in turn because of her memory and everything that transpired after the fact," Maher said of Familia, to whom he referred as a police detective.
According to the Associated Press, other police officers later fatally shot the gunman who had killed Familia. After Maher finished paying tribute to his former partner, Trump spoke at length about Familia, describing her as someone who "loved being a police officer" and who "was respected by everybody." He then concluded the ceremony by offering an emotional statement about "all of the heroes we lost."
"As we read the names of your loved ones, we engrave them into the eternal chronicle of American valor," Trump told the crowd. "And when that siren blares, when the squad car races down the street, when the police officer steps forth confident and proud and strong — so brave in that crisp, blue uniform — we will think of you."
But in addition to celebrating the legacies of fallen officers, Trump used the memorial service as an opportunity to make some demands of Congress. He asked elected officials "to secure our borders, support our border agents, stop sanctuary cities, and shut down policies that release violent criminals back into our communities." He pledged the use of surplus military equipment to police departments — a rollback of previous restrictions that civil rights activists have criticized — and suggested that the Americans needed to "condemn dangerous anti-police prejudice."
Tuesday's memorial service was also not the first time that Trump attributed positive attributes to "good genes." Back in September, TIME reported that Trump frequently credited his health and his self-described success in business to his genes, and suggested that his children and grandchildren would also be successful as a result. Trump has also previously said that he believes in the "gene thing," and that he "had a good gene pool."
Familia's story wasn't the only one that Trump told during the memorial, however. He also specifically addressed the families of an Air Force veteran who was shot in Indiana last year, an off-duty police officer who was killed during the Las Vegas mass shooting, and a Border Patrol agent from Texas, before concluding his remarks by conveying his thanks to "our fallen heroes" and their families.