Trump Told Theresa May To "Sue The EU" & That Advice Is Vintage Donald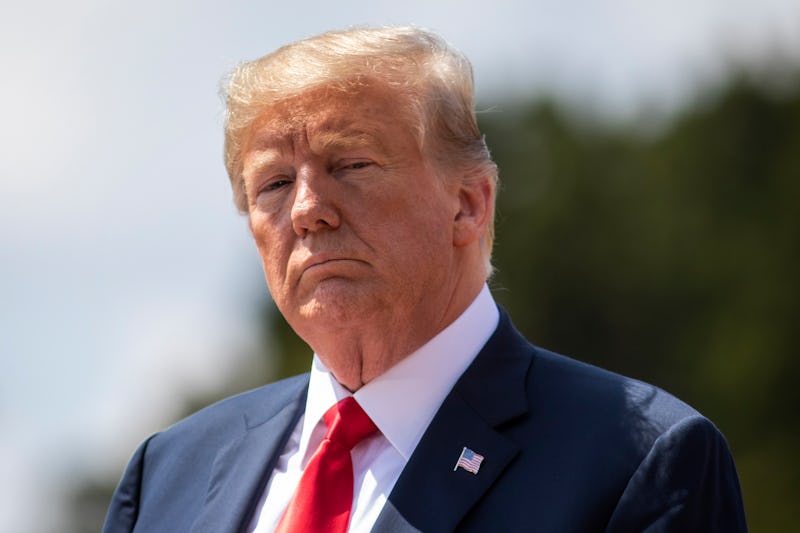 Dan Kitwood/Getty Images News/Getty Images
During his visit to the United Kingdom, President Donald Trump told reporters he'd given the British prime minister some advice that she'd found "too brutal." While Trump refrained from going into just exactly what his advice had been, Theresa May has, thankfully, let the cat out of the bag — and, honestly, it's absolutely the advice you'd expect Trump to give. May claimed Trump advised she sue the European Union.
"He told me to sue the E.U.," May said Sunday during an interview on the BBC's Andrew Marr Show. "Not go into negotiations, sue them."
But May appeared to quickly dismiss Trump's suggestion with a laugh, telling Marr, "actually no, we're going into negotiations" when asked if she'd thought about taking the president's advice for even a second. "Interestingly, what the president also said at that press conference was 'don't walk away,'" May added. "Don't walk away from those negotiations because then you'll be stuck." The British prime minister said she was committed to sitting down with the E.U. "to negotiate the best deal for Britain."
As shocking as his advice may sound, it's not altogether surprising to hear that Trump advised May to sue Europe's 28-member political and economic bloc. The president has often resorted to threatening legal action when he appears to feel things aren't quite going his way.
In May, Trump threatened to take legal action against Special Counsel Robert Mueller's team, which is investigating allegations of collusion between Trump's presidential campaign and Russia's meddling in the 2016 election. "The 13 Angry Democrats in charge of the Russian Witch Hunt are starting to find out that there is a Court System in place that actually protects people from injustice," the president tweeted May 7 before issuing a thinly-veiled threat. "And just wait 'till the Courts get to see your unrevealed Conflicts of Interest!"
Rudy Giuliani, one of Trump's personal lawyers, recently echoed the president's threat of a lawsuit, telling ABC News that "if Mueller tries to subpoena us, we're going to court."
But Trump's history of threatening lawsuits extends back to even before his election victory. An analysis by FiveThirtyEight found Trump had threatened to sue someone or something at least 20 times during his presidential campaign alone. There was his threat to "just for fun" sue John Kasich, one of his Republican rivals in GOP primary, over negative ads and his multiple threats to sue Ted Cruz.
Not to be forgotten, were Trump's threats to sue Univision, the Washington Post, the New York Times, the Associated Press, and the National Hispanic Media Coalition. (Just prior to announcing his election, Trump threatened to sue Rolling Stone and the Huffington Post.)
Or who can forget the time when Trump, in October of 2016, threatened to sue all of the women who had accused him of sexual assault up to that point in the election. "All of these liars will be sued after the election is over," he said in a speech that was meant to address how he'd spend his first 100 days in office.
And yet even those 20 threats don't fully represent Trump's history of threatening lawsuits. In 2014, he publicly pondered the idea of suing "some jerk" who he claimed had "fraudulently tweeted" that his parents had been inspired by him on Twitter.
In 2013, he followed through on threats to sue Bill Maher for breach of contract after the HBO host had offered to donate $5 million to a charity of Trump's choice if the real-estate mogul proved he was not "the spawn of... an orangutan." (Spoiler alert: Trump ultimately dropped that suit.)
Then there were his threats to sue former Miss Pennsylvania USA Sheena Monnin in 2012 after she called his Miss USA pageant "fraudulent." In fact, Trump was issuing public threats of legal action even as far back as 2011, when he asked Twitter if he should sue Lawrence O'Donnell for making what he alleged were "false statements."
Given Trump's recent advice for May to sue the E.U., it appears as if old habits die hard.