Trump Trashed LeBron James In A Tweet That People Are Calling "Racist"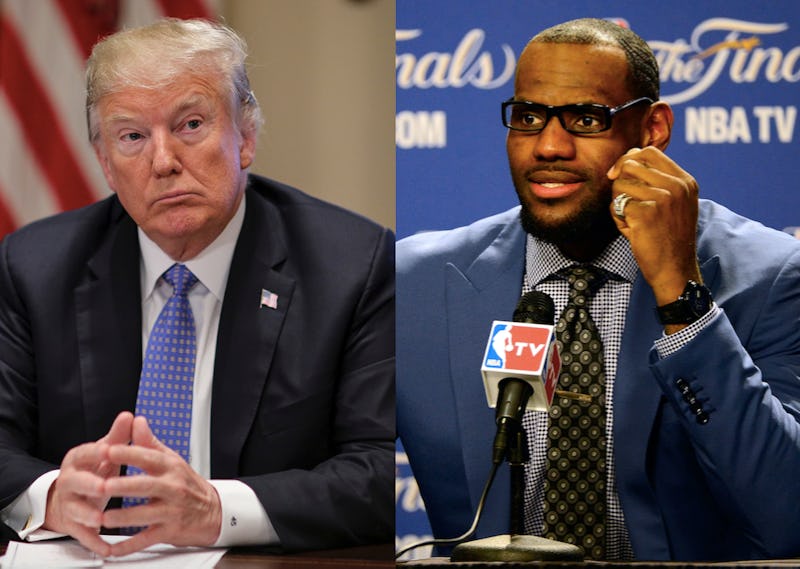 Pool/Getty Images News; Ronald Martinez/Getty Images Sport/Getty Images
Donald Trump's midnight tweeting struck again Friday. Trump mocked NBA star LeBron James in a late-night Twitter attack that also targeted CNN's Don Lemon and is being hailed as racist by some. "Lebron James was just interviewed by the dumbest man on television, Don Lemon," Trump tweeted. "He made Lebron look smart, which isn't easy to do. The president then waded into debate over who is the greatest basketball player of all time by tweeting, "I like Mike!" in an apparent reference to Michael Jordan.
Trump's tweet came in response to CNN's interview with James, which had originally aired Monday, after the Los Angeles Lakers player launched an elementary school for at-risk children in his home state of Ohio. The president reportedly took offense to James' claim that he was using sports to divide people.
"This whole race thing has taken over because I believe our president is kinda trying to divide us," James told Lemon in the interview. "He's dividing us and what I noticed over the last few months [is] that he's kinda used sport to divide us and that's something I can't relate to, because I know that sport was the first time I was ever around someone white."
James went on to characterize sports as a unifying force, crediting it with giving him, and many others, the opportunity to meet and learn about people from different races, nations, and cultures. "I got an opportunity to see them and learn about them and they got the opportunity to learn about me," he said.
"Sports has never been something that divides people, it's always been something that brings someone together," James said.
Both Lemon and CNN's communications team cheekily responded to Trump's tweet with references to first lady Melania Trump's Be Best campaign, an initiative that aims to help children "learn positive online behaviors" among other things.
"Who's the real dummy? A man who puts kids in classrooms or one who puts kids in cages? #BeBest" Lemon tweeted in reference to the Trump administration's policy of separating migrant families at the border.
"Sounds like @FLOTUS had the remote last night," CNN Communications tweeted. "We hope you both saw the incredible work of @KingJames. #BeBest."
But Trump's tweet didn't just spark cheeky retorts and debate as to whether James or Jordan is the greatest basketball player of all time, it also drew criticism as being racist. Journalist and news anchor Dan Rather slammed Trump's tweet as not only a disgrace, but racist as well. "This is apparently what the President of the United States feels the need to share with the world at what should be long past his bedtime?" Rather tweeted. "It's a disgrace. It's racist. And it's the product of petty but dangerous hatreds. I repeat this is the PRESIDENT??!?"
"I'd much rather live in a world reflecting the values, philanthropy, and yes intelligence of LeBron James and Don Lemon's intelligent commitment to truth and journalism than the divisive peevishness, lies, and narrow self-interest displayed by the President of the United States," Rather wrote in a second tweet.
Actress Mia Farrow also criticized the president's remarks as racist. "Our country would be far better off if you had a fraction of Mr. Lebron's intellect and integrity," she wrote on Twitter Saturday. "Your racist, ignorant comments hurt America and all of us."
A number of people in the sports world also characterized the president's remark as racist, including former NFL player and current sports analyst Shannon Sharpe and NBA sportswriter Chris Martin Palmer.
"It should be beneath the dignity of a sitting POTUS to take racist shots at D. Lemon and Lebron James," Sharpe tweeted. "While only uttering kind words for ruthless dictators, Putin, Kim and Duterte."
"LeBron James is a man of principle and character," Palmer tweeted. "A great father, philanthropist, citizen. Donald Trump is a racist, immoral, soulless empty vessel with no redeeming qualities. There is no comparison between the two."
James' newly-opened I Promise School aims to help at-risk kids and their families by offering access to an on-site food pantry and job placement assistance for parents.