Clinton Tweets Trump With Some Covfefe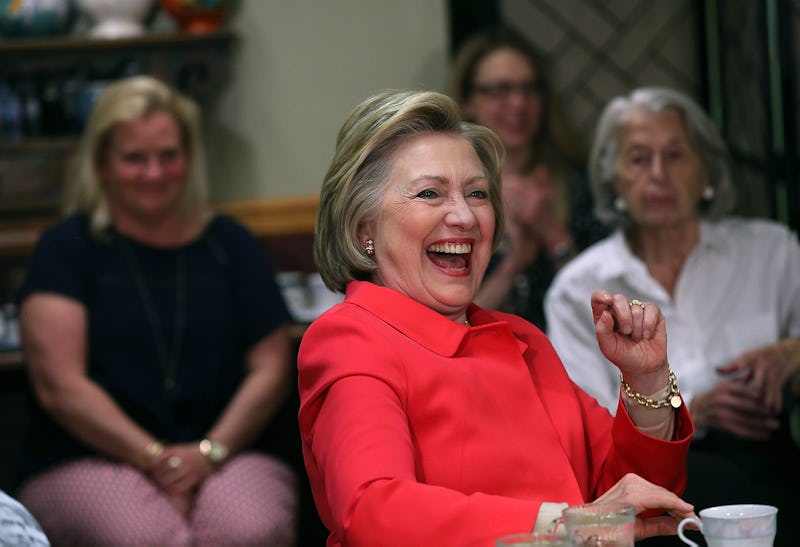 Justin Sullivan/Getty Images News/Getty Images
Over the past few weeks, Hillary Clinton has officially joined the resistance and voiced her opposition to many of Trump's controversial policies. On Wednesday, Clinton took to Twitter to call Trump out on his hypocrisy — and she did it by using "covfefe" against him.
"People in covfefe houses shouldn't throw covfefe," Clinton said in response to President Trump's tweet that called the former Secretary of State a "terrible candidate" for President.
The term "covfefe" was first used in one of the President's signature early-morning tweet storms, though this one appeared to be half-finished. Twitter-users across the country united on Wednesday to determine the meaning of Trump's seemingly unintelligible gibberish, and though the original tweet has since been deleted, it seems that even Hillary Clinton isn't going to let him live this one down.
The Trump tweet that Clinton responded to read, "Crooked Hillary Clinton now blames everybody but herself" for her 2016 election loss. Given that the Trump administration is currently the subject of multiple federal investigations for potentially colluding with Russian officials to influence the election, Clinton apparently has no time for Trump's mockery.
The gloves have come off. The Twitter feud has been renewed. The covfefe has been thrown.
Clinton has been pretty vocal recently about her belief that Russian interference cost her the election, citing the Kremlin's hacking of Democratic National Committee emails and a potentially fake Russian document that may have prompted former FBI Director James Comey to publicly testify against her just days before the polls opened.
The Trump administration denies any collusion, and clearly Trump believes that Clinton herself is to blame for her loss. Still, that hasn't stopped her from using "covfefe" to add some humor to the situation. In an interview at Recode's Code Conference on Wednesday, Clinton joked that the term may even have something to do with the Kremlin.
"I thought it was a hidden message to the Russians," Clinton quipped.
The Trump administration's official response to Trump's "covfefe" tweet hasn't done much to stop the speculation. In his daily press briefing, White House Press Secretary Sean Spicer denied that the tweet was a mistake: "The President and a small group of people knew exactly what he meant," Spicer said.
We may never know the true meaning of Trump's cryptic, newly-created word. But one thing that is clear is that Hillary Clinton threw some major covfefe to let him know that she's back, and she's not going anywhere anytime soon.