Trump Literally Admitted He's Poured Wine Down Women's Backs In An Act Of Revenge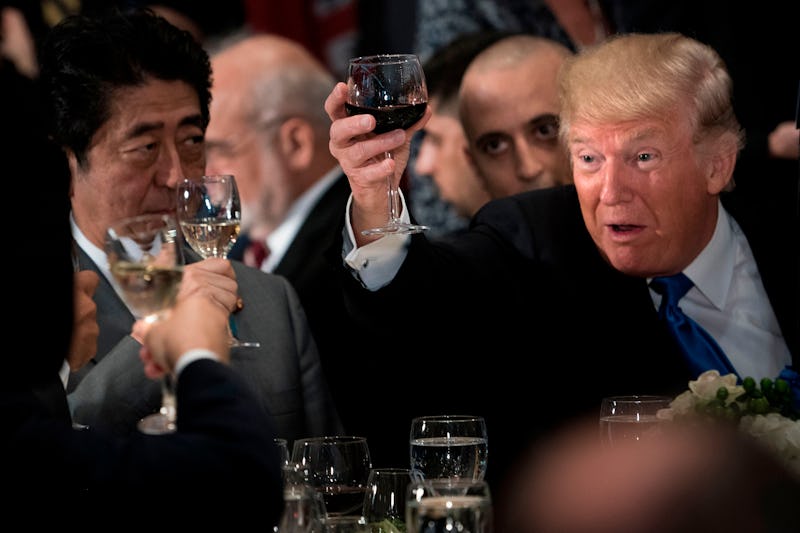 BRENDAN SMIALOWSKI/AFP/Getty Images
Donald Trump isn't exactly famous for his thoughtful treatment of women. For instance, there are The Access Hollywood tapes from 2005 that The Washington Post published in 2016 in which Trump openly gloated about groping women without their consent. He later on apologized for his lewd remarks. Now, another report of Trump's aggressive behavior toward women has emerged detailing two separate accounts in which Trump poured wine down women's backs out of reported vengeance.
According to former Vanity Fair editor Tina Brown, this incident involving Trump's supposed fury with a glass of red wine took place in New York City in 1991. The black-tie gala event at Tavern on the Green took a sordid turn when Trump poured red wine down the dress suit of reporter Marie Brenner. At the time, Brenner had written an uncomplimentary profile on Trump and his divorce from Ivana.
Brenner wasn't the only one to experience Trump's red wine vengeance. The business tycoon used a similar tactic against his rival businesswoman Leona Helmsley. In 2003, Trump told Page Six that he poured red wine into Helmsley's hood at a gathering. And by the looks of his account, he wasn't particularly ashamed of his act. "I took an entire bottle of red wine and poured it into the hood," he said. Trump then added that he chose red wine because "white's not nearly as effective."
The context surrounding Trump's reported red wine attack on Brenner in 1991 is even more eyebrow-raising. Brown said that Brenner's piece on Trump had a little note about him reading Adolf Hitler's speeches. In the story, Brenner wrote, "Last April, perhaps in a surge of Czech nationalism, Ivana Trump told her lawyer Michael Kennedy that from time to time her husband reads a book of Hitler's collected speeches, My New Order, which he keeps in a cabinet by his bed."
Trump told Brenner at the time, "If I had these speeches, and I am not saying that I do, I would never read them."
But according to Brown, including that tidbit in the story made Trump go "absolutely ballistic."
The reporter wrote that she asked Trump if he was given those speeches by his cousin, John Walter. Brenner said Trump "hesitated" at first and asked, "Who told you that?" He then said, "Actually, it was my friend Marty Davis from Paramount who gave me a copy of Mein Kampf, and he's a Jew." Later on, Brenner shared a response from Davis who said he gave Trump "My New Order" and not Mein Kampf and added that he was "not Jewish."
The 1990 published exchange between the mogul and journalist apparently displeased Trump. In the interview with CBS News' Tony Dokoupil, Brown said Brenner felt "something cold and wet" spill down her back. "[Brenner] was sitting demurely in her black dinner suit at the Parks Commissioner Betsy Gotbaum's table when she felt something cold and wet running down her back."
Brown went on to say, "Other guests at the table started pointing and yelping, 'Oh my God! Look what he just did!' The 'he' in question was Donald Trump! She saw his familiar Elvis coif making off across the Crystal Room." Brown called Trump a "coward" and said, "What a coward! He couldn't even confront her to her face!"
One thing is clear from these reports. Whether it's shamelessly bragging about grabbing female genitalia without the clear permission of a person or pouring red wine down the backs of unsuspecting women, Trump's aggression toward women should be a cause for alarm and concern for those dedicated to building a society where women aren't targets of a man's unchecked and unhinged ego.