Trump Unravels Obama's Cuba Policy To Restrict Travel All Over Again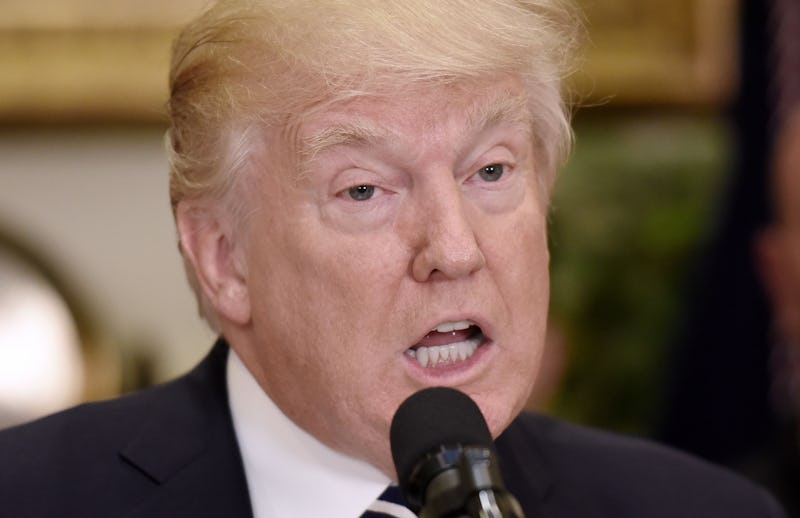 Pool/Getty Images News/Getty Images
Undoing years of diplomatic efforts by the Obama administration, President Donald Trump announced his new Cuba policy on Friday that restores restrictions on travel and trade on the Caribbean country. Americans will no longer be allowed to visit Cuba for so-called "people-to-people" purposes, which was one of the key loosened restrictions brought about by the Obama administration's diplomatic reforms.
This new re-tightening of U.S. restrictions on Cuba is strongly backed by a pair of prominent Florida Republican lawmakers, Sen. Marco Rubio and Rep. Mario Diaz-Balart. Both are Cuban Americans and have long been staunch critics of the Cuban government (first under Fidel Castro, now under his brother Raul), and opposed to normalizing relations between the two countries.
Trump's new policy won't take effect immediately, to be clear, so if you've got tickets to head to Cuba in a few days, you're likely safe. But as NPR details, it's only a matter of time before the Treasury and Commerce departments draft the new restrictions and they're put into effect. This will have a big impact on what appeared to be a rapidly growing tourism industry for Cuba ― according to a Cuban diplomat who spoke to The Miami Herald in January, more than 600,000 Americans visited the island nation in the last year.
Trump's about-face on Cuba is not a complete reversal of Obama's efforts, however. The embassies in Washington, D.C. and Cuba will reportedly remain open, and the U.S. will not totally sever diplomatic ties. However degraded and lessened Obama's Cuba legacy will be, it will not be totally undone ― not by these changes, at least.
According to CNN, Trump has also instructed Secretary of State Rex Tillerson to form a task force on increasing internet access within Cuba, although what will ultimately come of that remains to be seen. There will also be renewed restrictions on American businesses dealing with GAESA, a large, nearly all-encompassing conglomerate of Cuba's business and military concerns.
This move will surely be well-received by some, and disdained by many others. It's no secret why Trump decided to make the announcement in Miami's Little Havana ― the Florida city is home to a relatively large community of Cuban-American expatriates, many of whom traditionally vote Republican thanks to the party's harder line on the Castro regime.
This is part of the reason that the state of Cuban-American relations often looms large in presidential campaigns — Florida is as crucial an electoral college state as they come, and home to the highest percentage of Cuban Americans in the entire country. Suffice to say, this is a move with some major implications, both for where Cuban-American diplomacy goes next, and the domestic politics side of things.