Trump Used A Photo Of A Hospitalized Parkland Survivor To Raise Campaign Funds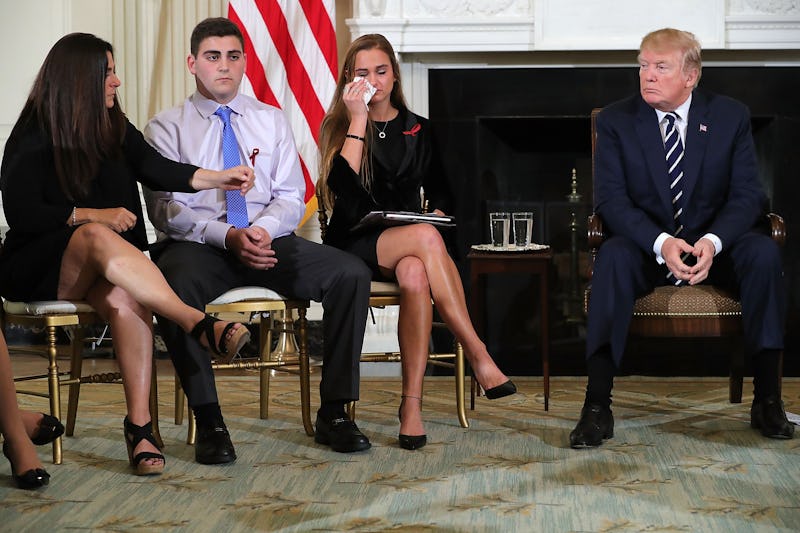 Chip Somodevilla/Getty Images News/Getty Images
On Sunday, the Huffington Post reported that President Trump is using a photo of a Parkland survivor to raise money for his campaign. The photograph was included in a weekly newsletter paid for by "Donald J. Trump for President Inc." and sent to supporters. Many on social media are absolutely appalled by the campaign's decision to include the image of the Parkland survivor, accusing the president of trying to profit off of a tragedy.
As the Huffington Post noted, the weekly newsletter sent to Trump and Mike Pence supporters featured several stories, with the first one entitled, "President Trump — Week 57: Safer Schools." The story described how President Trump and First Lady Melania Trump had visited with "victims and first responders" in the wake of the Parkland school shooting.
The story also noted Trump's reported response to the shooting:
The President is now engaging in an important national conversation about school safety and ways to prevent any future attacks. President Trump is taking steps towards banning gun bump stocks and strengthening background checks for gun purchasers. The President has made his intent very clear: "making our schools and our children safer will be our top priority."
The image that accompanied the school safety story is one of 17-year-old Madeleine Wilford and her family receiving a hospital visit from the Trumps. Wilford is a Marjory Stoneman Douglas High School student who was shot four times in the shooting that left 17 of her peers and members of faculty dead.
At the bottom of the newsletter email, there was a link for supporters to either contribute to campaign reelection funds or to visit the Trump/Pence online store. According to CNN, neither the Trump/Pence campaign nor the Wilford family have responded to CNN's outreach regarding the inclusion of Wilford's photo in the campaign newsletter.
However, many on Twitter were completely outraged by the notion. One user did not hold back at all when criticizing the campaign's decision:
This is more than WRONG. It should be criminal. Trump is taking advantage of, probably without permission, this poor survivor to enrich himself. He has no scruples, he has no morals, he has no ethics, he has no SOUL.
Another user pointed out the irony of conservatives criticizing liberals for citing the tragedy as a reason to advocate for gun control, when the Trump campaign is using the tragedy in a newsletter designed to appeal to supporters and potentially garner campaign contributions.
"Trump's re-election campaign uses a photo of a survivor of the Parkland, Florida, shooting in an email that asks its recipients to donate money." But people who call for gun control are shamefully exploiting the horrific event for political purposes. Um, OK.
Mother Jones also reported that the message being conveyed to supporters in the newsletter — that Trump is working toward strengthening background checks and banning bump stocks to help prevent future shootings — does not necessarily align with his message in recent days. As the outlet noted, most of Trump's recent rhetoric related to the shootings has involved advocating for arming some teachers, with the president releasing tweets related to the idea for four days in a row.
Indeed, one of these tweets, which the president shared on Fed. 22, read:
I never said "give teachers guns" like was stated on Fake News @CNN & @NBC. What I said was to look at the possibility of giving "concealed guns to gun adept teachers with military or special training experience - only the best. 20% of teachers, a lot, would now be able to ... immediately fire back if a savage sicko came to a school with bad intentions. Highly trained teachers would also serve as a deterrent to the cowards that do this. Far more assets at much less cost than guards. A "gun free" school is a magnet for bad people. ATTACKS WOULD END!
Notably, the president did also tweet about enhancing background checks and banning bump stocks on Feb. 22, but has tweeted about the issue of arming teachers more frequently.
It is evident that the Trump campaign's decision to include a photograph of a Parkland shooting survivor in a supporters' newsletter is quite controversial. You have to wonder if and how Trump will respond to criticism for this decision — and whether or not it will impact supporters' perception of his campaign.