Trump's Vs. Obama's Responses To The California Wildfires Are Worlds Apart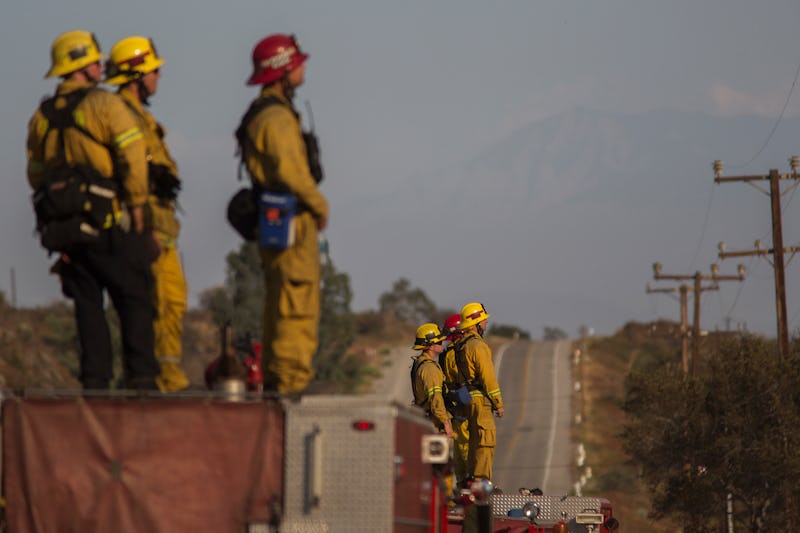 David McNew/Getty Images News/Getty Images
California is currently battling deadly wildfires at both ends of the state. These wildfires have resulted in devastating losses of human life and have destroyed thousands of homes throughout the state. Many have responded to news of the wildfires on social media, including the current president and former president. Trump versus Obama's California wildfire responses take on two different tones — and, resultantly, have elicited quite different responses from the public.
For his part, President Trump has been criticized for his initial response to California's wildfires. In a tweet on Nov. 10, the president blamed the state's wildfires on what he called poor "forest management," despite scientific evidence to the contrary, as the AP described. He also threatened to halt federal financial assistance to the state. As Trump wrote:
There is no reason for these massive, deadly and costly forest fires in California except that forest management is so poor. Billions of dollars are given each year, with so many lives lost, all because of gross mismanagement of the forests. Remedy now, or no more Fed payments!
The president again criticized California's forest management in another tweet on Nov. 11, writing, "With proper Forest Management, we can stop the devastation constantly going on in California. Get Smart!" As CNN reported, Trump's tweets angered many, who accused the president of being insensitive and politicizing an apolitical issue.
The outlet noted that the president of the California Professional Firefighters, Brian K. Rice, condemned Trump's tweets. "The President's message attacking California and threatening to withhold aid to the victims of the cataclysmic fires is ill-informed, ill-timed and demeaning to those who are suffering ...," he told CNN. A host of celebrities, many of whom reside in California, also lambasted Trump for his comments.
Trump did also release a tweet on Nov. 10 acknowledging the devastation produced by the wildfires. This tweet read:
More than 4,000 are fighting the Camp and Woolsey Fires in California that have burned over 170,000 acres. Our hearts are with those fighting the fires, the 52,000 who have evacuated, and the families of the 11 who have died. The destruction is catastrophic. God Bless them all.
On Nov. 12, the president also approved major disaster declaration for California. However, his controversial tweets about forest management have perhaps overshadowed these messages.
In contrast to Trump, former president Barack Obama did not condemn California's forest management in responding to the wildfires. He instead offered sympathies and asked Americans to help those affected. On Nov. 11, Obama shared a link to a New York Times article detailing how to help Californians and also tweeted the following:
Michelle and I are heartbroken for everybody who's lost so much in California, and grateful for the heroism of the firefighters who've been risking their lives around the clock to save others. Please do what you can to help our fellow Americans in need.
In response to Obama's tweet, many on social media thanked the former president for his words, with some even suggesting that Trump should have tweeted a similar message.
As CNN reported, so far California's three major active wildfires have killed at least 44 people and destroyed at least 7,000 structures. Two of these fires are not yet close to being contained and firefighters are continuing to battle them as they move through the state.
It's clear that the recent wildfires have had a catastrophic effect on California — and that the 44th and 45th presidents have chosen to respond differently to news of this devastation. In turn, these varied responses have elicited quite divergent reactions from Americans in California and beyond.