Trump Finally Waives The Obscure Law That Prevented Puerto Rico From Getting Aid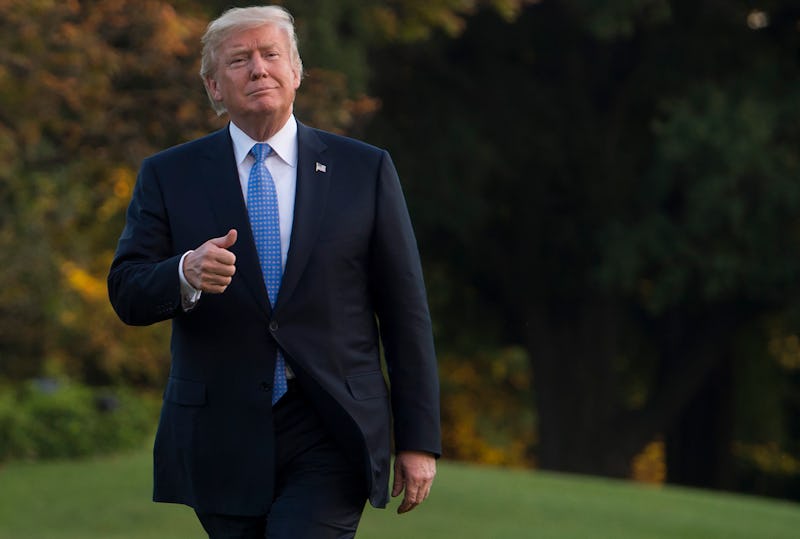 SAUL LOEB/AFP/Getty Images
After a growing outrage over his lack of action to help Puerto Rico, President Trump has decided to waive the Jones Act, a protectionist law that limits shipping on the island to United States-based vessels, on Thursday. Press Secretary Sarah Huckabee Sanders tweeted the decision, adding that it takes effect immediately.
Huckabee Sanders noted that the decision came at Puerto Rico Gov. Ricardo Rosselló's request. Notably, just this Wednesday, Trump expressed hesitation to make the same call, pointing to other vested interests in the act.
Well, we're thinking about that. But we have a lot of shippers, and a lot of people — a lot of people that work in the shipping industry that don't want the Jones Act lifted. And we have a lot of ships out there right now.
That hesitation came after the administration announced on Tuesday that it flat out would not waive the Merchant Marine Act of 1920, the Jones Act's formal name. A Department of Homeland Security spokesperson told the Associated Press that there was a "sufficient capacity" of U.S.-based ships to get Puerto Rico the relief it needs. After Hurricanes Harvey and Irma, the act was waived for Texas and Florida to help speed oil's arrival to the East Coast when pipelines were damaged.
The internet was not forgiving. "Trump has not signed a waiver to the Jones Act of 1920. This act prohibits foreign aid to #PuertoRico. Gov is letting own people die. #Maria," Twitter user Brenden Moses wrote. Another user, Scott Lincicome, quoted a tweet quoting Trump who said that Puerto Rico was "out in the ocean" and that you "can't just drive your trucks there"; Lincicome commented that this is "precisely why the Jones Act's shipping restrictions — which Trump won't waive — are strangling the island."
Many House Democrats and prominent Republican Sen. John McCain had publicly pushed the administration to offer a waiver. Puerto Rico is facing an extremely devastating humanitarian crisis, and everything from drinking water to diesel fuel is in high demand on the island. The idea is that without the Jones Act, supplies will arrive faster and cheaper — U.S.-based shipping tends to cost far more than international competitors.
McCain didn't hold back as he explained the need for the waiver to Homeland Security Secretary Elaine Duke:
It is unacceptable to force the people of Puerto Rico to pay at least twice as much for food, clean drinking water, supplies and infrastructure due to Jones Act requirements as they work to recover from this disaster.
We must treat this emergency relief with urgency ― every day that business owners are unable to recover their assets and account for lost business, the economy will retreat even further into devastation.
Now that Trump has done an about-face on the issue, people are responding positively — but there's fear that Trump will still need further prodding to keep working toward Puerto Rico's best interest.
"Trump finally waived the Jones Act thanks to social media pressure, but Puerto Rico remains a humanitarian crisis. Keep calling and tweeting," wrote Amy Siskind, president of women's right advocacy organization The New Agenda, in a tweet.
The Jones Act, which arguably makes shipping within the United States unnecessarily expensive, has a far great effect in Puerto Rico, given that it's an island and not connected to the mainland. Foreign ships in the United States tend to unload in one port, and then goods are moved via rail or semi to their final destination; that's not an option in Puerto Rico. Instead, they must be loaded onto U.S.-based ships (the expensive ones) and sent back to the island.
Trump and others have pointed to Puerto Rico's financial problems as a cause of the crisis. Several studies actually argue that without the Jones Act, the island would have no public debt. Waiving the law — especially given the circumstances — will be well received by McCain, Democrats, and the 3.4 million U.S. citizens living on the island.