Trump Wanted To Be President In 'Sharknado 3' So Much, He Reportedly Threatened To Sue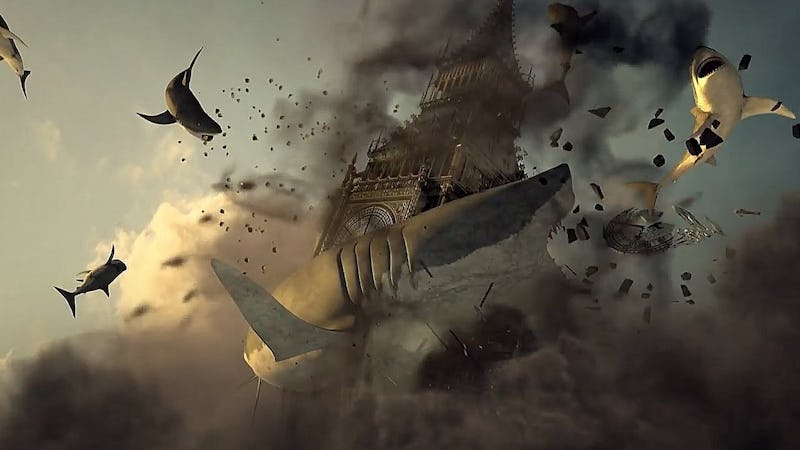 SyFy
Before real estate magnate Donald Trump ran for president, there was at least one person who felt he'd be convincing in the role. Unfortunately, it was Sharknado actor Ian Ziering, who was struck by the idea that Trump would be the perfect choice to play the president in 2015's Sharknado 3: Oh Hell No!. "[Trump] was thrilled to be asked," Sharknado exec David Latt recalled in an interview with The Hollywood Reporter published Wednesday.
Remember, this was 2015. You had a shiny new iPhone 5, you'd never even heard of a fidget spinner, and you probably believed Jeb Bush or Hillary Clinton would succeed Obama. Trump was still best known as the spray-tanned gazillionaire who shouted "You're fired!" on network television. It was a simpler time, and a time in which Trump was a solid choice to play a man who desperately shot at poorly rendered sharks in a movie about a shark tornado.
The Sharknado executives were pumped. Unfortunately, weeks passed with no word from the Don's camp. Eventually, according to The Hollywood Reporter, they received some bad news: "'Donald's thinking about making a legitimate run for the presidency, so we'll get back to you,' Latt recalls [Trump lawyer] Cohen saying. 'This might not be the best time.'"
Disappointed executives swiftly replaced Trump with Shark Tank alum Mark Cuban, which was when shit hit the fan. To quote The Hollywood Reporter:
"Then we immediately heard from Trump's lawyer," recalls Latt. "He basically said, 'How dare you? Donald wanted to do this. We're going to sue you! We're going to shut the entire show down!' " Contacted by THR, Cohen acknowledges a dinner with Ziering to discuss casting Trump but says he has no recollection of the angry correspondence.
It was, indeed, the role of a lifetime.
At some point between Trump mulling a run for president and Mark Cuban frenziedly stumping for Hillary Clinton, the world stopped making sense. You know the story by now: Donald Trump, once a cable news target and political laughingstock, overtook lifetime politico Hillary Clinton to be voted into office for the first time. Not just any office, but the Oval Office.
Which is where we're at now.
Life comes at you fast.