Trump Will Force Puerto Ricans Evacuating The Island To Pay In Full For Their Transportation — REPORT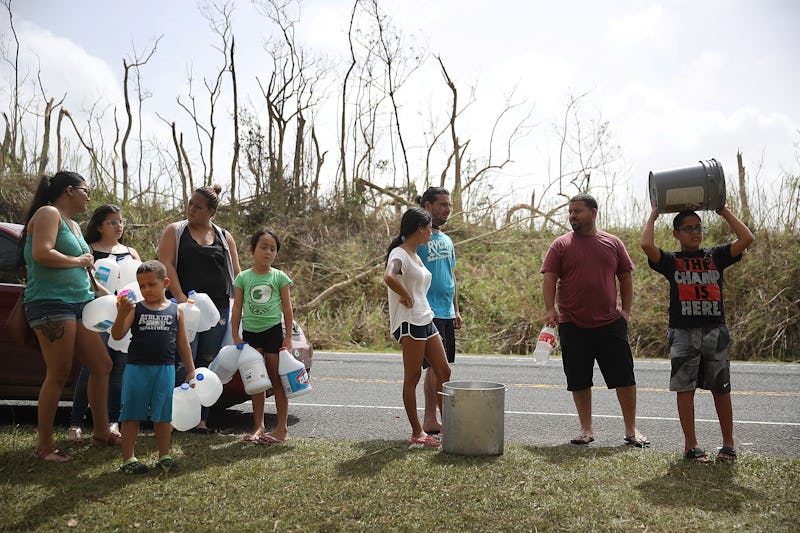 Joe Raedle/Getty Images News/Getty Images
For Puerto Ricans who are evacuating the island following Hurricane Maria, help from the federal government comes with strings attached. The costs of Puerto Rico evacuation transportation must be paid back — and it might cost more than typical plane fare from the island. MarketWatch reported Thursday that the Trump administration could force Puerto Ricans to pay "full-fare" to leave the island and hold passports as collateral.
Information from the State Department's website, from a section titled "Information for Evacuated U.S. Citizens," notes:
Anyone evacuated on U.S.-government coordinated transport, including charter and military flights, must sign an Evacuee Manifest and Promissory Note (Form DS-5528) note prior to departure.
The promissory note obligates an evacuated person to repay the cost of the transportation to the U.S. government.
That could mean essentially signing yourself up to pay the cost of a "full-fare (not discounted) economy ticket prior to the crisis" to get off the island — and if you want to go anywhere after being evacuated, it may not be so easy.
Upon evacuation, a Department of State official must limit an evacuee's passport. In order to obtain a new passport, an evacuee must arrange payment as agreed upon via the promissory note.
This suggests that evacuees must make payment arrangements though the Comptroller and Global Financial Services office in Charleston, South Carolina, before they can go anywhere; a new passport may not be issued otherwise.
To add insult to injury, MarketWatch also reported it could potentially be impossible to pay off the promissory loan at this time, due to "ongoing emergencies in the region." At time of writing, loan repayments cannot be completed, though the State Department has instructed people to call if they have special circumstances, according to MarketWatch.
However, while MarketWatch has so far reported the above information, fact-checking website Snopes.com has written that the way in which evacuations from Puerto Rico will take place and what policies will apply has not yet be proven accurate.
This does seem par for the course for international evacuations; however, it must be noted that U.S. evacuees from Puerto Rico haven't even left the country, and traveling between Puerto Rico and the mainland, of course, does not require a passport. Puerto Rico is a U.S. territory, and the federal government is therefore responsible for the disaster relief to the island.
The Stafford Disaster Relief and Emergency Assistance Act of 1988 explains how Puerto Rico is included — anywhere "the United States exercises exclusive or preeminent responsibility and authority" falls under the president and federal government's realm of responsibility.
The State Department website on international travel explains that "departure assistance is expensive," but U.S. law requires that help be provided "on a reimbursable basis to the maximum extent practicable." They further detail what this means:
This means that evacuation costs are ultimately your responsibility; you will be asked to sign a form promising to repay the U.S. government. We charge you the equivalent of a full coach commercial fare on a comparable mode of transportation at the time that commercial travel ceases to be a viable option.
Hopefully there isn't a rush immediately before disaster — there were reports on social media before Hurricane Irma that airlines were charging hundreds of dollars more than normal (all the airlines claimed it was on accident), which could leave evacuees with quite the bill to the State Department by the time the hurricane relief is over and they're able to make payments.
Then of course there's the issue for those who don't have the money to pay to evacuate. On the general State Department site, it explains that there is hope. If someone is "destitute, and private resources are not available to cover the cost of onward travel, [they] may be eligible for emergency financial assistance."
Again, all of this seems fair enough for disasters and emergencies in a foreign country; traveling is an option. But to be saved from a humanitarian disaster in your own country, it seems more than a tad suspect.