Trump Delivered A Warning To Iran's Leader Via An All-Caps Tweet & Wow, It's Intense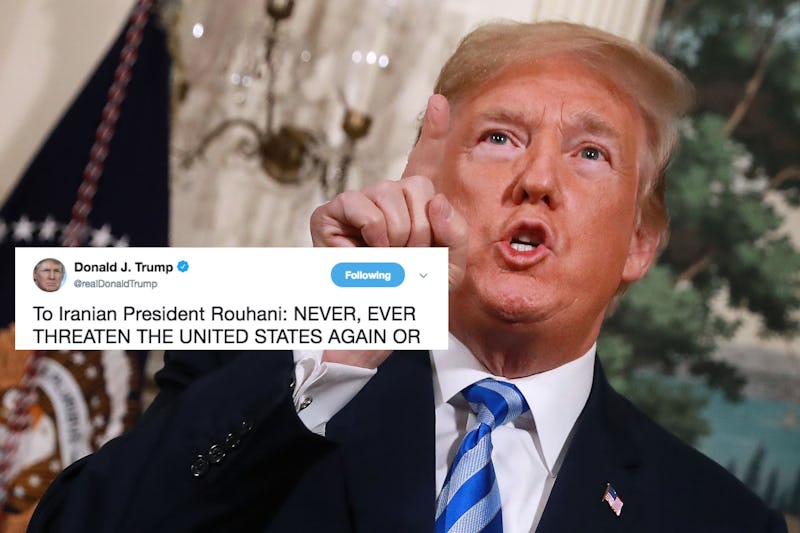 Chip Somodevilla/Getty Images News/Getty Images
In an entirely capitalized message, the latest tweet fired off by President Trump minces no words. Trump warned Iran's president Hassan Rouhani against threatening the United States in an all-caps tweet, saying Rouhani would suffer unnamed consequences if he continued to do so.
"Never, ever threaten the United States again or you will suffer consequences the likes of which few throughout history have ever suffered before. We are no longer a country that will stand for your demented words of violence [and] death. Be cautious!" Trump wrote on his Twitter account Sunday evening.
Trump's message is a response to the Iranian leader, who put out his own words of caution to the White House earlier on Sunday while addressing a group of Iranian diplomats. According to Reuters, which cited the state news agency IRNA, Rouhani had said, "America should know that peace with Iran is the mother of all peace, and war with Iran is the mother of all wars."
Peace between the United States and Iran is a distant memory for most, with discord between the two countries since the 1979 Islamic Revolution, though Rouhani has been considered a relatively practical leader regarded as more acceptable to moderates. "Mr Trump, don't play with the lion's tail," Rouhani had said. "This would only lead to regret."
President Trump's tweet came just a short while after Mike Pompeo, the secretary of state, gave an address on Iran at the Ronald Reagan Presidential Library and Museum, according to The Hill. Pompeo characterized the leaders of Iran as the mafia, while simultaneously proclaiming support for the people of Iran. Pompeo pointed especially to the protesters who have recently publicly demonstrated in opposition to the current regime.
"Governments around the world worry that confronting the Islamic Republic harms the cause of moderates, but these so-called moderates within the regime are still violent Islamic revolutionaries with an anti-America, anti-West agenda," Pompeo said in his speech in Simi Valley, California, according to The New York Times. "You only have to take their own words for it."
Pompeo tweeted out a series of messages on Iran on Sunday, expressing his reproach of the Iranian government.
"You are not in a position to incite the Iranian nation against Iran's security and interests," Rouhani said, apparently referencing reported efforts by the White House to undermine Iran's Islamic government, Reuters reported.
Iran is wrestling with heightened pressure and impending sanctions from the United States after Trump's decision to pull out from a 2015 international deal over Iran's nuclear program, according to Reuters. President Obama was one of the driving forces of the international agreement, which gave Iran relief on its sanctions in return for restraints on its nuclear program.
Trump has long been a critic of the agreement and made the scrapping of the deal one of his key campaign promises. The move to withdraw from the agreement elicited global condemnation as well as concerns of increasing clashes between the two countries. In June, the White House said it would impose sanctions on all who exported Iranian oil. Since then, United States officials have lessened the sanctions order.
According to The New York Times, Rouhani had hit back with his own oil threat, saying regional oil shipments could be blocked if Iran's exports were cut off by United States sanctions. On Saturday, Iran's supreme leader, Ayatollah Ali Khamenei, said he supported Rouhani's oil plan, suggesting that Iran's leadership is on the same page regarding the apparent threat.
Iran has been regarded as a hostile country, and the Trump administration has been clear on its standing; the White House included Iran in its list of seven countries encompassed by the controversial travel ban, which was recently upheld by the Supreme Court.