Trump Was Reportedly Given "Tweet-Length" Talking Points For His Meeting With Putin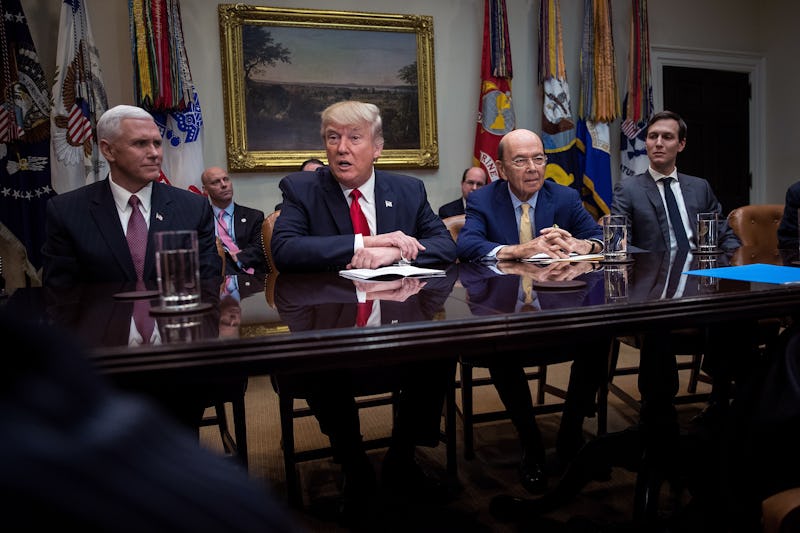 Drew Angerer/Getty Images News/Getty Images
President Trump's aides are reportedly working hard to prepare the president for his highly-anticipated meeting with Russian president Vladimir Putin this week. According to the Los Angeles Times, aides have been preparing the president for the Friday meeting with a "detailed psychological profile" of Putin, and it includes "tweet-length" points for Trump to discuss in his meeting with the Russian leader.
The importance of this meeting is not lost on those in the Trump administration. Though the two world leaders have never met in person, their administrations have been tangled together for months, stemming from an investigation into whether Russia meddled in the 2016 election with the intent of helping Trump become elected. Putin's reputation preceded him in these diplomatic meetings. The former KGB agent is known as a master manipulator, and is always meticulously prepared for tête-à-têtes with foreign leaders. According to the Los Angeles Times, top aides are reportedly worried that Trump, still new to diplomacy, will not be able to hold his own against the experienced Russian president.
The New York Times cited people "close to Trump" who say they expect the two to bond over their disdain for the media. Observers have pointed to Trump's susceptibility to being flattered as reason to worry that Putin will go in knowing exactly what he needs to say to lower his defenses.
Critics have also said that if Trump does not confront Putin about possible Russian hacking in the 2016 election, Putin will viewed him as a pushover. Rep. Adam Schiff told the Los Angeles Times, "If he doesn't have the courage to raise the issue, Putin will conclude he can walk over our affairs and the president won't object."
The White House has also stated that Trump has no set agenda for the meeting -- a big mistake when going toe-to-toe against Putin, says William Burns, a former U.S. ambassador to Russia under George W. Bush. Putin is "professionally prepared to try to manipulate people," Burns told Bloomberg. "He will come well-equipped, and it's important that we do that too." Aides are reportedly trying to keep the meeting scripted, concerned about what Trump will say if he goes off the cuff.
In the face of such an important conversation, aides are trying to prepare Trump to go head-to-head with a force as formidable as Putin, per the LA Times. But Trump's track record with preparation and briefings, as well as previous instances of him being too forthcoming with classified information, has aides on their toes ahead of Friday's meeting.
Trump has made it clear to aides that he prefers to be briefed with short, bullet-pointed one-page memos with graphics. In May, it was reported that his national security advisers would try to include Trump's name in their briefs as much as possible to get him to continue to read the important documents.
It seems that his aides feel their best hope to get Trump to the level of preparedness needed to face Putin is to bring him the information in 140-character pieces. Trump's affinity for Twitter is well-documented, even prompting the White House last month to declare that his tweets should be considered "official statements."
But it's not just about him not having the information. Because even when he does, he sometimes shares it with people he shouldn't be sharing it with. In May, Trump shared classified intelligence regarding ISIS with Russian officials in an Oval Office meeting, setting off resounding criticism from both sides of the aisle.
Almost six months into his presidency, Trump's lack of experience and his volatility is reportedly worrying aides tasked with preparing him for these big meetings. On Friday, concerns about Trump's conduct with Putin will be answered when they finally meet.