Trump Reportedly Forgot To Book A Hotel Room For The G20 Summit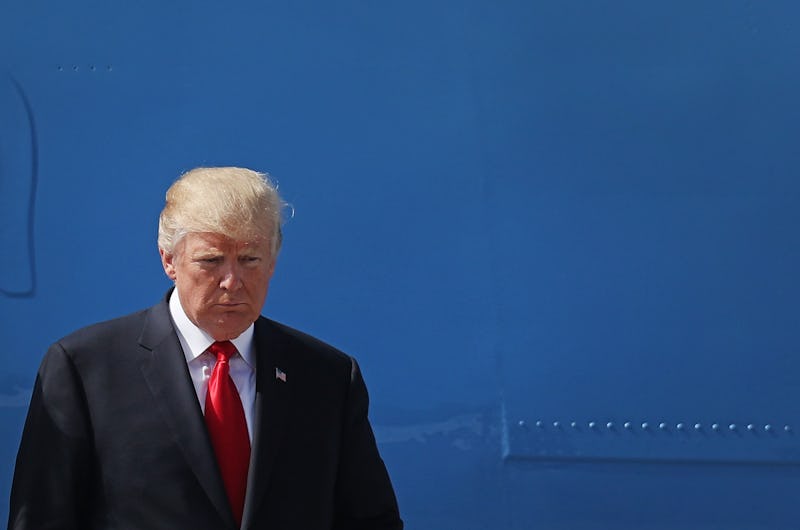 Sean Gallup/Getty Images News/Getty Images
Leaders from 20 countries are gathering in Hamburg, Germany, for the annual G20 summit, but one of those leaders has reportedly run into logistical problems. President Trump doesn't have a hotel room for the G20, because the White House waited too long to make a reservation. As a result, all of the luxury hotels in Hamburg are already completely booked, mostly with other countries' delegations to the summit — and there are no Trump-owned hotels in the city.
According to BuzzFeed and the local Hamburger Abendblatt newspaper, the Four Seasons reportedly turned Trump away, as the Saudi Arabian delegation already occupied the entire hotel. Chinese President Xi Jinping and Italian Prime Minister Paolo Gentiloni had already reserved the Grand Elysée, while the delegations for French President Emmanuel Macron and Norwegian PM Erna Solberg reserved every room in the Mövenpick Hotel.
As a result, it's unclear exactly where the president will be staying during the summit. BuzzFeed cited an Associated Press report that Trump would be hunkering down in the Senate House, a city-owned guest house in Hamburg, during the summit, while the White House staff stays at a nearby U.S. consulate. However, the White House didn't confirm or deny BuzzFeed's request for confirmation on where Trump will be staying. Weeks earlier, there had been rumors that Trump would be staying in Berlin and flying in to Hamburg for the summit.
The G20 summit was rocked with protests before it even began. Police had deployed 20,000 officers to work security at the summit, which officially kicks off Friday. But protesters, many of whom are anti-capitalists, began marching in the streets earlier in the week. According to the Associated Press, demonstrators threw bottles and stones at German security officers on Thursday, who in turn fired water cannons and pepper spray at the protesters. About 76 people were injured in these clashes, according to The Independent; it's unclear whether any of them were police officers.
In addition to this, a banner reading "Borderless solidarity instead of nationalism: attack the G-20" was unfurled over a nearby building, according to the Chicago Tribune. Police said windows were smashed at a furniture store and a bank as well.
Although it's unknown exactly why the White House reportedly failed to book a room for the president, Vox noted that Trump still hasn't nominated anybody to direct the State Department's Office of Foreign Missions, which is tasked with "facilitat[ing] secure and efficient operations of U.S. missions abroad."