Trump Will Celebrate ICE "Heroes" For Enforcing His Zero-Tolerance Immigration Policy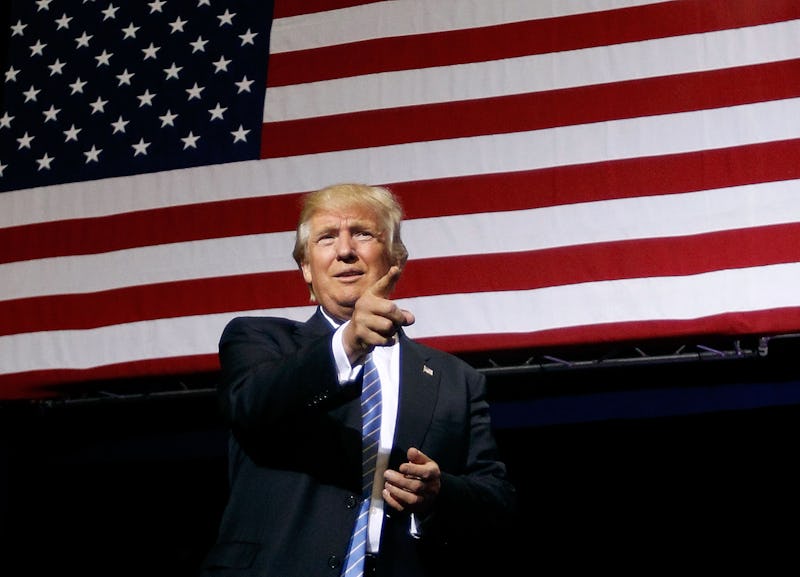 Ralph Freso/Getty Images News/Getty Images
As activist calls for Immigration and Customs Enforcement (ICE) to be dissolved continue, President Donald Trump has planned to honor federal immigration agents in a White House ceremony Monday. According to Politico, the White House will hold an event entitled "Salute to the Heroes of the Immigration and Customs Enforcement and Customs [and] Border Protection" in the White House's East Room.
Although details of the reported event weren't immediately available Sunday, Trump has made no secret of his fierce support for ICE and federal immigration agents. "Without the brave heroes of ICE, we would have no enforcement, no borders, no laws, we wouldn't even have a country," Trump said in a video posted to his Twitter on July 28. Bustle has reached out to the White House for comment.
But Trump's plan to honor ICE agents at the White House comes as both the agency and the Trump administration weather a storm of criticism for Trump's "zero-tolerance" immigration policy. Under President Trump's direction, ICE has transitioned from prioritizing the detention and deportation of undocumented immigrants with a criminal background to a policy that includes deporting even law-abiding undocumented people. In recent months, critics, some Democratic lawmakers, and 19 ICE investigators have called for the agency to be dissolved.
"Only this White House would give medals for taking thousands of immigrant children from their parents, and continuing to detain hundreds of orphaned kids in defiance of a court order," Vice President of the Center for American Progress Tom Jawetz told Politico.
What's more, Trump's plans to honor ICE agents come on the heels of reports noting that more than 550 immigrant children have yet to be reunited with their parents after being separated at the border earlier this year as part of Trump's "zero-tolerance" immigration policy. According to NPR, court documents filed last week in the American Civil Liberties Union's (ACLU) lawsuit against the Trump administration noted that 565 immigrant children, including 24 children under the age of 5, were still in federal custody.
Documents provided to the court by the Trump administration also showed that part of the issue was that some parents had been sent back home before their children were returned to them. According to PBS Newshour, 366 adults were reported as having already been deported, or returned voluntarily, to their home country without their child.
These latest numbers appear to suggest the Trump administration has struggled to reunite families despite a federal judge ordering their reunification in late June.
But despite mounting public criticism and calls for the agency to be abolished, President Trump has remained a staunch supporter of ICE, vowing not to allow it to be eliminated. "Democrats want Open Borders and they want to abolish ICE, the brave men and women that are protecting our Country from some of the most vicious and dangerous people on earth!" he tweeted earlier this month. "Sorry, we can't let that happen!"
The president has also previously called for protecting ICE, tweeting, "Protect ICE and Law Enforcement and, of course, keep building, but much faster, THE WALL!" in July.
Most recently he hailed ICE officials as "tremendous people" at his Thursday Cabinet meeting, Newsweek reported. "They're brave," he said. "They're strong. They're tough. And they're good. They're good people."