Trump Will Host A Ramadan Dinner — Here's Why That's Causing Such A Stir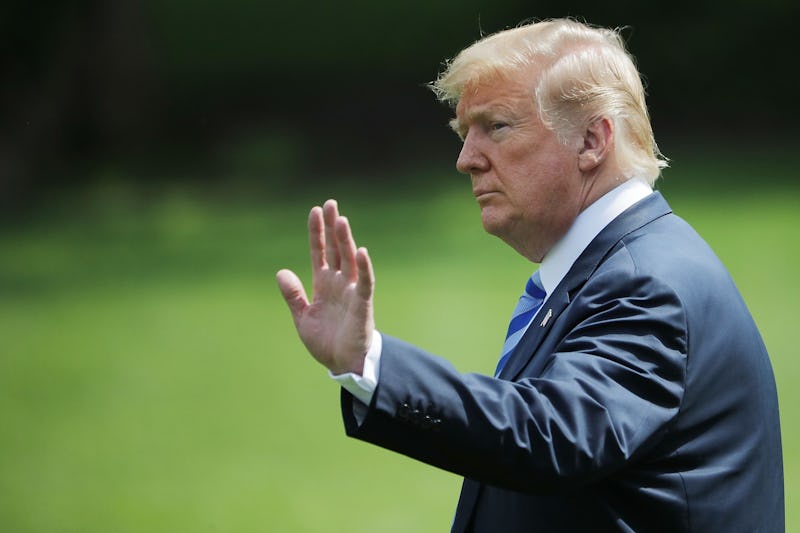 Chip Somodevilla/Getty Images News/Getty Images
It's standard practice for the White House to host events celebrating various religious holidays, like the Hanukkah party or the Easter Egg Roll. The latest of these types of celebrations, though, is drawing a different sort of attention. Politico reported that this year the White House will be hosting an iftar dinner to celebrate the end of the Muslim holy month of Ramadan — and here's everything you need to know about Trump's Ramadan dinner.
Normally, this isn't the sort of thing that would pull in a whole lot of news coverage, because Bill Clinton, George W. Bush, and Barack Obama all held annual iftar dinners, Politico wrote. And according to the Washington Post, the first White House iftar dinner was even held a bit earlier — in 1805, when President Thomas Jefferson welcomed a Tunisian envoy to the White House during the month of Ramadan. The Post wrote that the tradition was re-opened during the Clinton administration, when Hillary Clinton held a celebration for Eid al-Fitr.
"I cannot express with words how our community feels," said then-American Muslim Council vice president Khaleed Saffouri upon giving Clinton a copy of the Koran, according to AP reporting from the time. "You make us feel very proud to be Americans."
With the Trump administration, however, it's a different story. Here's why that is, and why the decision to hold this event is causing such a stir.