Trump Won't Be In D.C. For March For Our Lives — But He Still Won't Escape It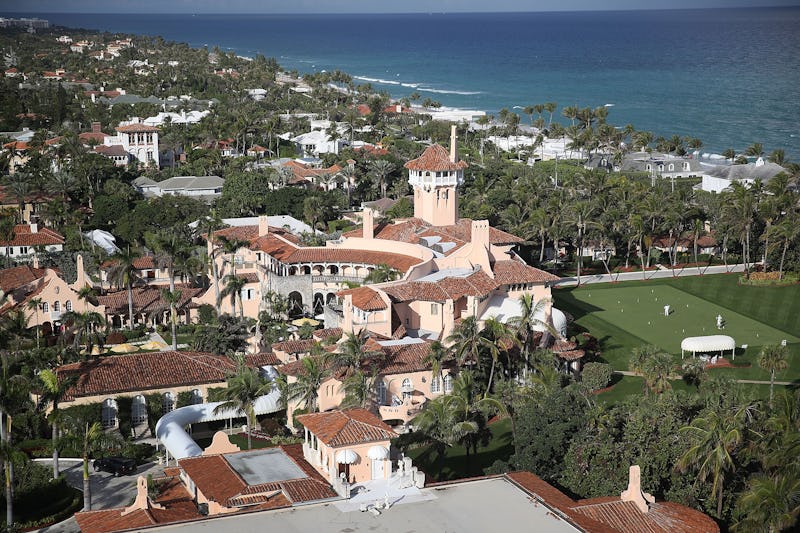 Joe Raedle/Getty Images News/Getty Images
One could speculate that the president is getting out of Washington this weekend on purpose. On Saturday, President Trump won't be in D.C. for March for Our Lives, the national protest that's expected to draw thousands of gun reform advocates to the nation's capitol — and to West Palm Beach, Florida, too. Trump likes to visit his Mar-a-Lago resort getaway in the Sunshine State, but with the sibling march planned close by, it may not provide a full escape.
According to Alex Leary at the Tampa Bay Times, this will be Trump's 15th trip to Mar-a-Lago since he was sworn in to America's highest office. That averages out to about one trip per month as president.
Trump has been no stranger to protests during his first 14 months in office. In fact, there were several on his Inauguration Day, some of which were rowdy enough that police intervened. Of course, it was on his first full day as POTUS, Jan. 22, 2017, that the Women's March took place. That event drew more than a million protesters to Washington, D.C., with 4 million more participating across the world.
Half a million people are expected to participate in Saturday's March for Our Lives in D.C. The president, meanwhile, will be in Florida.
Trump may not stay for the march, but the march is coming to him. There's a Palm Beach protest planned to coincide with the main event in D.C. It will start just two miles from Mar-a-Lago, though given the tight security of the club (not to mention, of the president), it's unlikely they'll get very close to Trump's stomping grounds.
There are sibling marches planned all over the world and on every continent. There are 800 planned in total, which guarantees a huge turnout across the nation and globe on Saturday.
And there's a lot of support for the teenagers organizing and showing up. Lyft will be giving out $1.5 million in free rides to protesters in D.C. and other participating cities around the country. The co-founders of the ride-share company sent a letter to the students of Marjory Stoneman Douglas High School who have been at the forefront of organizing for gun reform. "We are incredibly grateful for the example you are setting," the letter read in part.
Hungry teens will be happy to know there's a Food for Our Lives initiative taking place as well. Several restaurants will be stationed to give out discounted food to students with valid I.D.s — including Shake Shack, which will offer burgers free of charge. With his known love of fast food burgers, even Trump would have to support that.
The Food for Our Lives initiative was started by chef José Andrés. He wrote on his Twitter account, "Proud to be supporting students coming to #DC for #MarchForOurLives partnering with so many DC restaurants!"
The March for Our Lives has been put together with the explicit mission of pushing Washington to "end gun violence and mass shootings in our schools today." That's a goal no doubt everyone can agree on, but the particulars of how to do so break down quickly along partisan lines.
Many of the most public Parkland students have been actively seeking gun control reform. Some of them have even met with congressional representatives.
But with the House, the Senate, and the White House all currently under Republican control, the kind of gun control reform sought by the March for Our Lives organizers and their supporters is unlikely. Though he initially indicated he'd be open to raising the age of gun purchase from 18 to 21 in some cases, Trump has since backed off that idea. Instead, he — and other Republicans — are pivoting to training and arming teachers in the classroom.
Trump may be able to escape the marchers in Washington, D.C, on Saturday, but the issue of gun control reform will be waiting for him when he gets back.