Trump's Admin Just Said It Won't Stop Doctors From Discriminating Against Trans Patients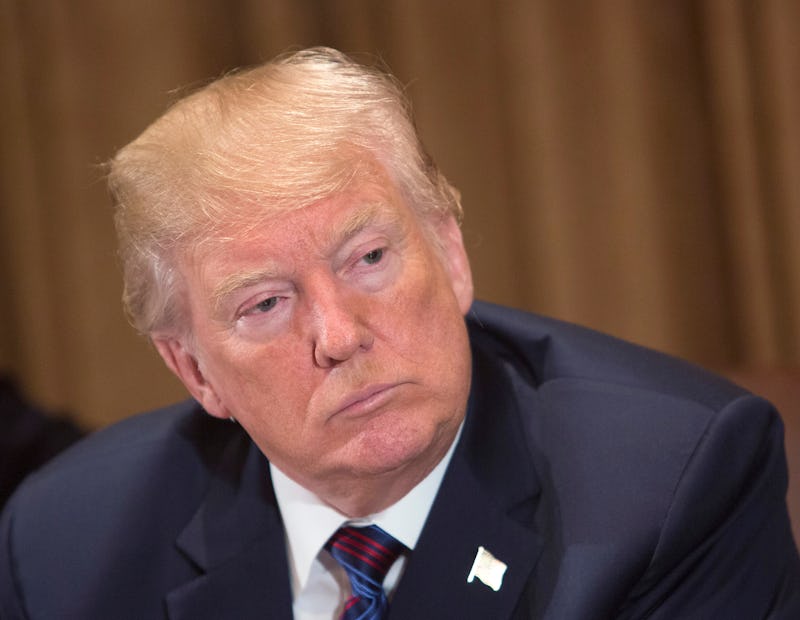 Pool/Getty Images News/Getty Images
As detailed by The New York Times on Saturday, the Trump administration plans to halt protections for transgender people implemented under the Obama administration, protections aimed at preventing them from being discriminated against by doctors, hospitals, and health insurers. The rule, which worked in concert with protections laid out in the Affordable Care Act, required that transgender people not be discriminated against by virtue of their gender identity.
The ACA specifically forbids discrimination based on a variety of factors, including age, race, sex, and disability, if a medical practitioner accepts federal funding. By virtue of the fact that almost all doctors and hospitals accept federal money via the Medicare and Medicaid programs, the rule effectively meant that millions of Americans, transgender Americans included, enjoyed legal protection against discrimination within the medical system.
These sorts of protections are especially vital for transgender people, as the process of transitioning may for some (though not necessarily all) include vital medical procedures to facilitate said transition. As the Times noted, for example, health insurers were once able to deny coverage for gender reassignment procedures, placing a unique burden on the people who need them.
Now, with the news that the Trump administration is reviewing the rules relating to non-discrimination in health, transgender activists and advocates have reason to fear that there's about to be another major step backwards. The Trump administration reportedly cited a Texas court decision to justify the review; in 2016, U.S. District Judge Reed O'Connor ruled that the transgender protections were likely in violation of the Religious Freedom Restoration Act.
The upshot is that a hard-fought victory for LGBT Americans under the Obama era is now under threat in the Trump era, and it's far from the first time that's happened. Since entering office last year, Trump has undermined transgender rights in a number of respects, most prominently when he moved to ban transgender soldiers from serving in the U.S. military.
The administration also reversed Obama-era protections for transgender students in schools. In February of 2017, just a month after Trump took office, he rescinded the Obama administration's protections allowing transgender students to use the correct bathrooms for their gender identities.
The American Civil Liberties Union (ACLU) blasted the Department of Education's move on transgender student protections last summer, with James Esseks, director of the organization's LGBT & HIV Project, calling it "shameful."
The Trump administration's decision to revoke the guidance on Title IX and transgender students was a shameful move. That guidance provided clarity to schools, as well as to transgender students and their families. These new instructions from the Department of Education are far from clear, and federal court rulings are increasingly on the side of transgender students. The ACLU will continue to fight in the courts for the basic dignity and equality of transgender students.
This strikes a contrast with how Trump campaigned on social issues, and specifically LGBT issues. Throughout the 2016 presidential campaign, Trump gained some coverage for what some viewed as an unusually tolerant attitude towards LGBT rights for a Republican presidential candidate.
His selection of Mike Pence to serve as vice president raised eyebrows, however, owing to the former Indiana governor's record of controversial and inflammatory statements regarding homosexuality and gay rights. And since becoming president, the notion that Trump might be more restrained on social issues than typical Republican presidents has not been borne out.
In short, Saturday's news is yet another worrisome sign for the transgender community under Trump. It remains to be seen whether the move will be the subject of any litigation, of course, and whether the administration truly will follow through. But if the protections really are reversed, it could have a hugely negative impact on the health care of transgender Americans.