Trump's Administration Is Ending An Asylum Program That Helps Families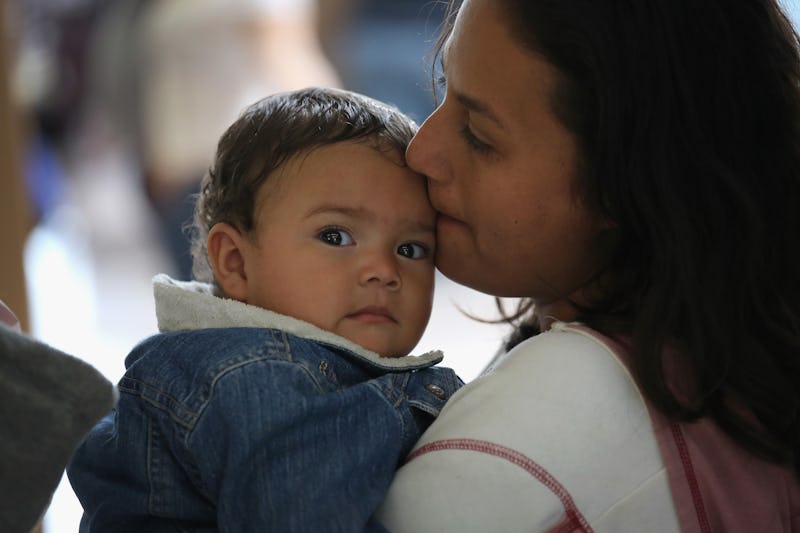 John Moore/Getty Images News/Getty Images
In a move that marks a setback for vulnerable people seeking asylum in the United States, the Trump administration is ending an asylum program. To make matters even more devastating, the program is designed primarily to protect women and children by offering them an alternative to detention as they await court processing of their asylum claims.
The program being shut down is known as the Family Case Management Program. It was introduced under the Obama administration and was first piloted by Immigration and Customs Enforcement (ICE) in 2015. The program offers an alternative to detention that does not involve staying in crowded detention centers or wearing ankle monitors, among other restrictions, to vulnerable populations, including:
...families with certain vulnerabilities, including pregnant or nursing family member; those with very young children; family members with medical/mental health concerns; families who speak only indigenous languages; and other special needs.
This year, the program has 630 families enrolled. According to the Associated Press, the overwhelming majority of the program's participants are mothers and children from Central America who have fled gang violence. As part of the program, social workers are assigned to families to help them find legal assistance and work through the court process. They also assist families in obtaining housing, healthcare, and education for their children as they await court processing — something which can take years.
The program is slated to end on June 20.
The Trump administration noted that it plans to end the program to save money and enhance the effectiveness of its "enforcement responsibilities." According to ICE spokesperson Sarah Rodriguez via CNN, ending the program will save $12 million per year. ICE's other "alternatives to detention" options, known as "intensive supervision" (like ankle monitoring and frequent check-ins) reportedly cost much less and result in a higher number of eventual deportation than the Family Case Management Program.
However, immigrant rights activists assert that cutting the program is patently unfair to those who could seek to benefit from it. Many of the women and children who use the program are fleeing violence in their home countries and, without the program, they would have to endure intensive supervision or crowded detention facilities as they await court proceedings.
Michelle Brane, who works for the nonprofit Women's Refugee Commission, told AP that she believes ending the program is unacceptable.
This is a clear attempt to punish mothers who are trying to save their children's lives by seeking protection in the United States. I think it's crazy they are shutting down a program that is so incredibly successful.
Moreover, those familiar with the program, like Ann M. Schlarb, an executive whose company ran the program in Florida via a contract with ICE, noted that the vast majority of families remained compliant with the court process, without the requirement of detention or strict supervision — "The families have thrived," she said — and that "99 percent of participants successfully attended their court appearances and ICE check-ins"; AP did note that 15 families were ultimately deported through the program.
Activists and those like Schlarb, who implement the program in cities across the country, have expressed concern about the news that it's ending. Some have even said they do not want to abandon the women and children whom they have been helping. Furthermore, activists worry about the effects of ICE's "intensive supervision" alternative to detention options on women and children. According to CNN, ankle monitors can cause burns and bruising, and often produce extreme social stigma for wearers. Moreover, excessive mandatory ICE check-ins could make it difficult for women to care for their children.
Overall, it seems truly unfortunate that women, children, and families who have fled extreme violence and suffering in hopes of a better life will now be forced to endure further hardship as they await processing of their asylum requests.