Trump's Alt-Right Supporters Are Having Second Thoughts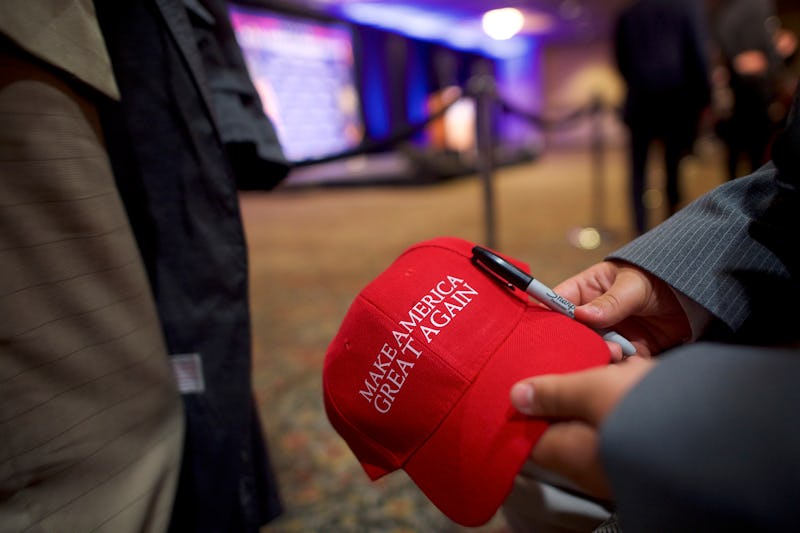 Mark Makela/Getty Images News/Getty Images
During the presidential campaign, Donald Trump set himself apart from other Republicans, in part, by staunchly opposing American military intervention in Syria. But on Thursday, the U.S. launched airstrikes in Syria on Thursday — and now, some of Trump's alt-right supporters are having second thoughts about their God King. In fact, some have left the #TrumpTrain entirely.
Richard Spencer, the popular white nationalist Trump supporter famous for getting punched in the face, called the Syrian airstrikes a "total betrayal." Ann Coulter, a die-hard Trump supporter from day one, tweeted that "those who wanted us meddling in the Middle East voted for other candidates. And Milo Yiannopolous, in a somewhat cryptic text message to Politico, called the strikes "FAKE and GAY."
"I guess Trump wasn't 'Putin's puppet' after all, he was just another deep state/Neo-Con puppet," wrote Infowars editor-in-chief Paul Joseph Watson on Twitter. "I'm officially OFF the Trump train."
"Well, I guess I'm back to voting 3rd party again," tweeted the popular alt-right Twitter account @apurposefulwife. "It was a nice 2 years Republicans but I'm out. Peace. Have fun in hell #Trump."
"MAGA Revolution dead today, 76 days old," tweeted @EuroAmericans, a pro-Trump white nationalist account, MAGA referring to Trump's "Make American Great Again" slogan. And so on.
The Trumpkins do have good reason to be upset, however, because Trump's bombing of Syria is a complete betrayal of his campaign promises. Even before he was a candidate for the presidency, Trump was firmly, unambiguously on the record opposing U.S. military intervention in Syria.
"We should stay the hell out of Syria," he tweeted in June 2013.
"AGAIN, TO OUR VERY FOOLISH LEADER, DO NOT ATTACK SYRIA," he wrote three months later. "IF YOU DO MANY VERY BAD THINGS WILL HAPPEN & FROM THAT FIGHT THE U.S. GETS NOTHING!"
Trump reiterated this position during the campaign, telling MSNBC in May that "I would have stayed out of Syria." In a different interview, he justified non-intervention the grounds that "[Syrian President] Assad, to me, looks better than the other side."
Opponents of Trump often debate what it is that draws his supporters to him. The alt-right's reaction to the Syrian airstrikes suggests that Trump's non-interventionist platform, and perhaps his soft praise of Assad himself, was one of his biggest draws.
Trump's isolationist foreign policy views helped distinguish Trump from a standard-issue Republican during the campaign, but now, he's looking an awful lot like a regular ol' Washington Republican. The MAGA crowd, meanwhile, is learning — perhaps for the first time in two years — what it feels like to be let down by a politician.