This Photo Of San Juan's Mayor Wading In Sewage To Save Lives Reveals Trump's Toxic Ignorance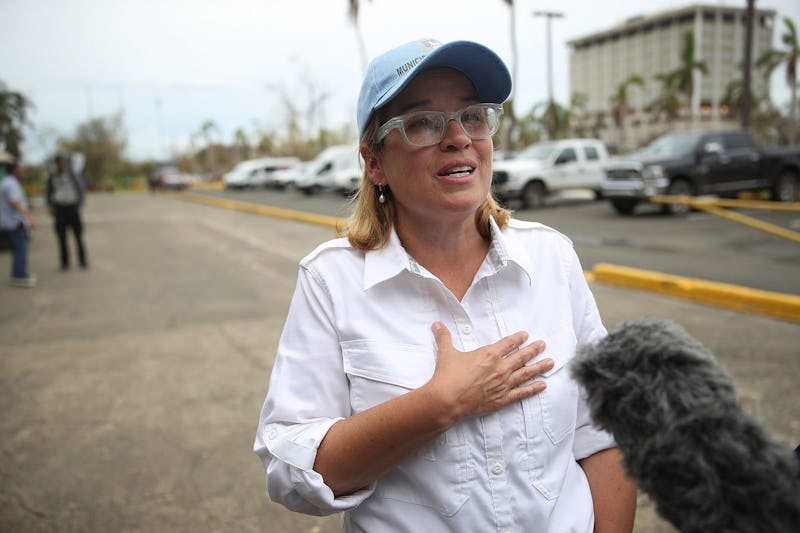 Joe Raedle/Getty Images News/Getty Images
On Saturday morning, President Trump attacked the leadership of hurricane-ravaged Puerto Rico, tweeting that San Juan Mayor Carmen Yulín Cruz displayed "poor leadership" for criticizing his administration's slow response to recovery efforts. He also took things a step further, accusing Puerto Ricans (many of whom have lost their homes, have no access to electricity, and are struggling to find clean water) of wanting "everything to be done for them" in a tweet that many have since criticized as racist.
His statement, however, ignores the resilience, dedication, and hard work of Puerto Ricans struggling the wake of the natural disaster (with insufficient aid from the federal government), and one photo of Cruz wading through waist-deep sewage water searching for people who were trapped in their homes, using a bullhorn to let them know that help was on the way, proves just how wrong he is.
Meanwhile, the same morning he tweeted his attacks on Puerto Rico and Cruz, President Trump flew to his golf course in New Jersey for the weekend.
Since Hurricane Maria ravaged Puerto Rico, Cruz has been working directly with residents to offer aid and assistance, and has pleaded with the federal government to pay more attention to the island commonwealth. "We are dying, and you are killing us with the inefficiency and the bureaucracy," Cruz said on Friday.
As many have pointed out, Trump's attitude towards relief efforts in Puerto Rico has been vastly different from his response to similar recent natural disasters in Houston, TX and Florida. He even compared the tragedies in another Saturday morning Tweet, stating that "Texas & Florida are doing great but Puerto Rico, which was already suffering from broken infrastructure & massive debt, is in deep trouble." He did not, however, offer condolences or commit to offering aid. His Tweet simply criticized the people of Puerto Rico for their "suffering" and seemed to imply that they are doing nothing to help one each other or their community recover.
This could not be further from the truth. Twitter has been flooded with images of everyday citizens pulling together to help their neighbors. In one particularly striking image, local men can be seen gathering fresh water from a handmade water chute, an effort that has become a necessity as over a million people in the area have little to no access to clean drinking water.
Trump's comments come after Cruz criticized Elaine Duke, acting secretary for the Department of Homeland Security, for calling the Trump Administration's response to Hurricane Maria "a good news story."
"This is not a good news story. This is a people are dying story," Cruz told CNN on Friday. ""When you're drinking from a creek, it's not a good news story. When you don't have food for a baby, it's not a good news story. When you have to pull people down from buildings -- I'm sorry, that really upsets me and frustrates me."
Duke later clarified that her remarks were intended to mean that "it was good news that people of Puerto Rico and many public servants of the United States are working together."
This, however, has an entirely different tone than the President's most recent tweets. In them, he did not acknowledge the hard work and self-sacrifice that many Puerto Ricans are exhibiting, even in the midst of unspeakable tragedy; rather, he seemed to dismiss their suffering as an unfair burden on the federal government, and suggest that they do not deserve aid or sympathy.
Puerto Rico may be struggling to recover from Hurricane Maria. But as these images from the island show, its citizens will continue working together to lift one another up from the wreckage — whether the president chooses to acknowledge it or not.